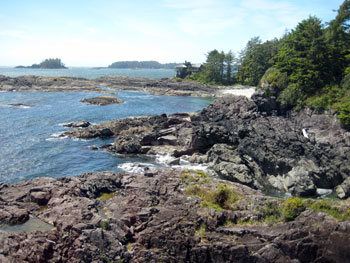 My husband and I were approaching a big anniversary and wanted to celebrate. As we considered lovely and exotic locales, we realized what we really wanted was a touch of wilderness and fresh air that involved no time changes from our California home. The Wickaninnish Inn, a straight shot north to British Columbia, bills itself as "rustic elegance on nature's edge." One look at the hotel's web site, and we both sighed. It was perfect.
Wickaninnish was the name of an 18th century chief of the Tla-o-qui-aht band of First Nation people. First Nation band is in Canadian parlance what we Americans call a Native American tribe. Wickanninish means, "He who no one sits in front of in the canoe." Based on our experience, the Wick, as it is called by the locals, clearly deserves the front seat among hotels. From our room, the windows looked out on one side to the Clayoquot Sound and Chesterman Beach and on the other side to volcanic rocks and rain forest. We woke to bald eagles flying by with prey in their talons. One sunny morning, a family of sea otters made their way down the rocks and flipped into the Pacific. A little brown marten emerged from the woods, looked all around and scooted among the rocks and disappeared. At breakfast, a gray whale on its annual migration to Mexico puffed out a big spout of water from its blowhole.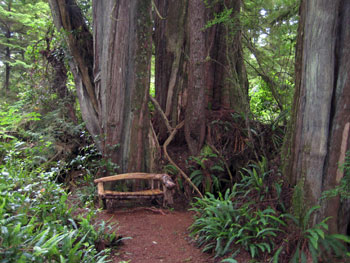 Only steps from the front entrance of the hotel, is a "beach rainforest" which could easily serve as anyone's idea of an enchanted forest. It was so other-worldly beautiful that I expected the butterflies and birds we saw to break into song and lead the way down the mossy path to the towering old-growth cedars and hemlocks. If you can tear yourself away from looking at the scenery, you will discover another beauty – the hotel itself. It blends in with its surroundings and has spacious rooms with comfortable beds, beautiful bathrooms and big windows. The staff is very welcoming and unfailingly helpful. The Ancient Cedars Spa looks out on the ocean.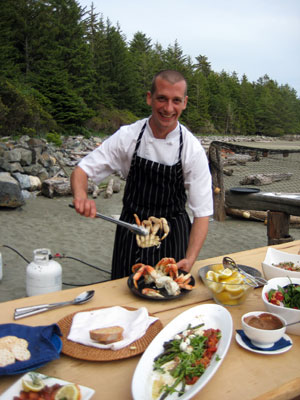 The food in the hotel restaurant is very good, and my favorite was the crab cookout that takes place every Wednesday evening all summer long. The crabs are caught locally and boiled in giant vats of sea water on the sand. A buffet is laid out on planks of raw wood, and on the night we went included a quinoa salad, roasted finglerings, spinach salad with strawberries and almonds, roasted asparagus with mozzarella and sun dried tomatoes, corn on the cob, homemade breads, and a cheese platter. A plate of small tarts and petit fours was the sweet dessert. Comfortably perched on stools with logs as both tables and foot rests, we feasted on delicious food while listening to the incoming tide and the honk of sea gulls, lulled by fresh sea breezes and an expansive view. It was an unforgettable meal.
The nearby town of Tofino has a fishing village and beach town feel, and there are offerings of kayak, whale watching and fishing trips. Small aqua planes from Tofino can get you a bird's eye view of the surroundings. Tofino also offers some outstanding food, particularly the restaurant SOBO that serves "fresh food from here and there." Be sure and try the smoked fish chowder along with a 4" high wedge of crispy-crusted buttery corn bread. The chowder is so full of fish that a spoon can almost stand in it. If you get lucky as we did and get there when local cherries are in season, they make a great cherry pie and serve it with homemade vanilla ice cream. Across the street from SOBO is Common Loaf, a bakery with gigantic muffins, fresh scones, and strong coffee. Pack a muffin and take a hike. Breathe the mix of both forest and sea in the air. This was a beautiful place to celebrate a long marriage, and in this year of the great oil spill, being in a place where nature seemed to still be alive and well was a needed relief.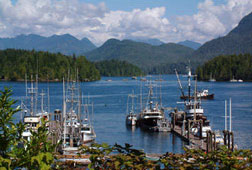 Luckily for the sake of the wilderness, it is not entirely easy to get to the Wick. We flew to Vancouver, took a 90 minute ferry to Nanaimo and then drove 3 ½ hours through lush forest to the Wick. The guests at Wickaninnish seem to be from all over the globe. It is a special place. According to David Pitt-Brooke, a biologist for the nearby Pacific Rim National Park and author of Chasing Clayoquot, a book I found on the mantle of our room's fireplace, "This is one of those rare places where the storehouse of nature is still full to the brim. He asks, "How do we know when to stop before we love the place to death?" and asks the visitors to "speak up on its behalf when the time comes." If you are lucky enough to get to the Wick, tread gently and enjoy.
Wickaninnish Inn
500 Osprey Lane
Box 250, Tofino, BC
Canada V0R 2Z0
1.800.333.4604
SOBO
311 Neill Street
Tofino BC
Canada V0R 2Z0
250-725-2341
Rachel Parker is a middle school teacher and home cook.