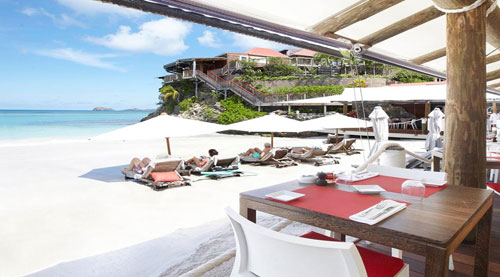 Generally, the time to avoid is the hurricane season that officially runs between 1 June and 30 November. However...
Generally I think avoiding the hurricane season is prudent. But, forget prudence if one has the chance to luxuriate on the beach of St. Jean on St Barths, and dining alfresco at Eden Rock's Sand Bar – "La belle Vie!" as my friend, Francoise Kirkland would say.
More than likely if someone asks me to describe my favorite meal, my answer would be a lingering joyful alfresco lunch, where the air is luscious and the sun warm. Summer at the Colombe d'Or comes to mind, as does Christmas in St Barths at Eden Rock's Sand Bar.
So, we rushed the season, and while tropical storm Kate was about to form near the Bahamas, Bill and I were about to have a perfect storm for would-be hedonists: great food, beautiful location, fabulous weather and a lover with which to cherish it all! Heaven.
A few days before we hit the Sand Bar, we were given a very 'precious' tasting meal – a big deal – in the eyes of everyone. Our first course, for example, had a scoop of frothy mashed potatoes and caviar with "a splash" of champagne poured over it. Quite lovely, but it was utterly ruined by the one too many can't-help-myself addition of yet another ingredient - watercress… ugh. Bitter green stuff with caviar mashed potatoes and champagne? The tasting went from elegant to gaudy. I bring this up to praise in contrast the absolutely perfect combination of a few fabulous ingredients done artfully that the Sand Bar offers with total style and grace.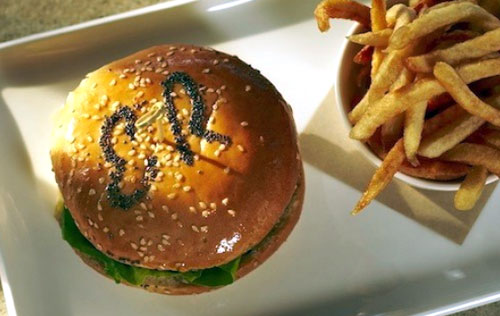 I wanted everything on their menu – especially the Pizza Truffe Noire & Fontina. (Come to think of it why didn't I have Black Truffle and Fontina Cheese Pizza?) I also lusted for the Calamars en Croûte de Pretzel, Marinara Epicée et Mayonnaise à l'ancienne (Pretzel Dusted Calamari, Spicy Marinara and old Style Mustard) and, Oh! Caviar - without watercress. (They also have vegetarian and gluten free dishes.) Instead, I ordered Sushi de Saumon au Riz Croustillant et Mayonnaise au Chipotle, while Bill chose Sandwich de Poisson Pays Grillé & Frites, Emulsion Chipotle.
Each fresh piece of my salmon was placed over a small cake of rice that had been fried to crispy perfection. The chipotle mayonnaise added a subtle, unexpected complexity. Each bite was a gift. Bill's fish sandwich was equally well designed. Local fish (super fresh) grilled simply ("tout simplement") and served on a freshly baked bun with sesame seeds sprinkled to form ER. A touch of chipotle mayonnaise added spice. It was the best fish sandwich he ever had.
Dessert was utterly sinful: Sundae au Caramel, Cacahuètes, Pop Corn, Fudge Chocolat & Chantilly. A home made Caramel ice cream sundae with peanuts, popcorn, hot fudge, and whipped cream – Enough said.
Jean-Georges Vongerichten is the Masterchef. No wonder Sand Bar's simple, taste-worthy dishes are both stylish and unimpeachably delicious.
Pricey? Mai Oui! (Hmm… what is "Who Cares" in French)?
Hotel Eden Rock, Baie de Saint Jean, St. Jean Bay, Saint Barthélemy 97133
Nancy Ellison, award winning photojournalist and celebrity portraitist, has authored fourteen books of photographs, including "Romeo and Juliet: The Love Story in Dance" and "Starlet". Her latest book is "Wagner's Eternal Ring".