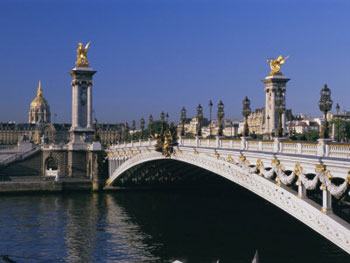 If you are looking for a most romantic place to celebrate an anniversary, holiday, or any day for that matter, then why not take a quick hop across one continent and one ocean to Paris. For centuries this has been the romantic center of the world regarded as such by those whose spirit soars with the magic of this beautiful city.
To wander through narrow winding streets happening upon gracious squares and fascinating houses under clear blue skies; meander along the banks of the river Seine, and over ancient bridges whose stones emanate the passing of history and all the colourful characters who have crossed; the wide avenues and soaring monuments, and immense museums storing great treasures from around the world.
For those like me who enjoy the more simple pleasures, the tiny stalls alongside the Seine filled with culinary delights that the French really know how to create, mouth watering cheeses, the finest wines, home-made fruit preserves and warm breads in fantastic shapes whose fresh baked fragrance fills the air with delight - the list goes on and on.
Little can be more charming than the roofs and spires of this enchanted city early in the morning, when the light that is so unique to Paris peaks over the horizon, bathing them in a palette of colour, sparkling off the multi-paned windows and dazzling the eyes with brightness.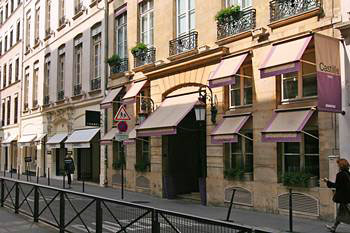 But where to stay for those special days and nights that will be a fabulous memory for the rest of your life. The Castille in the heart of Paris near by the Place de l'Opera is my recommendation. This beautiful hotel located in the exclusive first district amidst the haute couture houses, Galerie LaFayette, its floors filled with splendiferous treasures, the boutiques of Paris' fashion area, the splendor of the Louvre Museum, the Opera and the majestic Place Vendome.
The bedrooms are luxurious with every amenity including air conditioning, direct dial telephone, remote-control colour television, personal bar and safe. The intimate Rivoli wing has 20 rooms decorated in traditional French style by celebrated interior designer Jacques Grange. In the Opera wing with its Venetian decor in pale green and terracotta tones, 14 spacious duplex suites are available and its like being in your own private cottage with bedroom upstairs and living room downstairs.
You will also want to sightsee. Castille's concierge can order a chauffeur driven car to go on a tour of Paris at night - what could be more romantic than to be snuggled up in the arms of your loved one through brilliantly lit avenues and buildings. Or take a helicopter ride around the environs of Paris and see the twinkling lights of the City of Light underneath you. Another interesting excursion is on a Bateaux-Mouches, barge trip, to see historical Paris as you drift along the Seine.
So many places and people to see and enjoy, once again you just have to Do It!