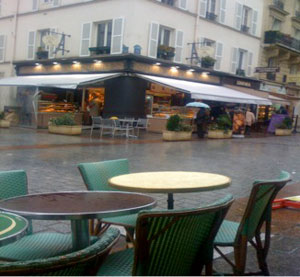 Tears always run down my cheeks as we cross that first bridge on the way to the Charles de Gaulle airport in Paris. I promise myself repeatedly that I won't cry, but I always do. I can feel my emotions start to well up when I am denied Paris air when the Air France autobus door shuts out the sweet scent of my favorite city. I get anxious knowing the door won't open again for a whole year as I start my ungraceful shuffle homeward bound. I'm not sad to be going home, I'm sad to be leaving Paris.
For 12 months I dream of all the smells of my early morning walks on the quiet streets of my favorite Arrondisement. The aroma of onions and shallots cooking in cafes as their day starts, the sleepy venders setting up their display at the daily market smile at me. The familiar butcher from a few doors down has arrived for his morning glass of red wine with his apron stained with fresh blood. No need for him to talk; an empty glass slides across the copper bar and the bartender fills it to the rim. The same faces of my wordless companions sit at the same surrounding tables as we all sip our morning beverages silently. We never talk but yet I miss them. I even check my watch when the garbage truck is running late. The sound of the truck and the assault of diesel fumes that fills my favorite café on the corner, I miss that too.
I'm feeling recharged for another year but still tears wet my cheeks. There is nothing like Paris to me! The placement of beautiful sights and how they overlap is endless. The residents are as precious as the views they live behind. The food, if carefully sought out is as exciting as reading a great love story. It can be so sweet, delicate, stimulating and tenderly offered.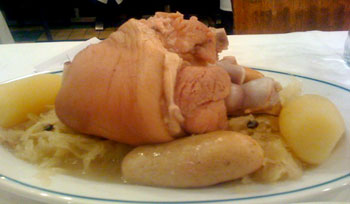 I'll miss the Choucroute Garni at Brasserie Lipp that's guarded by my favorite Maitre D' in the world. He is the one that always remembers my love for Oeuf Mayonnaise and always motions the tired waiter to tell the chef to make sure the hard cooked eggs have a warm, barely cooked yolk. He always remembers. It is this kind of genuine intimacy that I miss most when I go home.
That is how our customers at our store in Maine get tended to. Not many of our customers know that we have been trained by the best merchants of Paris. We always remember their names, know a few generations of family history, know important occasions in their life and best of all, we know what they like to eat and drink. We never forget.
With our energy renewed we are ready to open our door at our store for another year and greet everyone with a kiss on each cheek and a big hug. We take the time to get caught up on "things in our life" since we last talked. When we are done talking, it's time to pick a perfect piece of cheese to fit the moment and grab a Baguette hot from the oven. All hand picked especially for them with love from The Green Spot, Oakland, Maine (Arrondisement 21).
Brenda Athanus runs a small gourmet food shop in Belgrade Lakes, Maine with her sister Tanya called the Green Spot.
The Green Spot
This email address is being protected from spambots. You need JavaScript enabled to view it.
207.441.9327