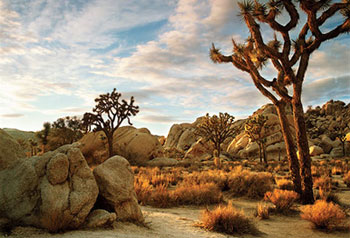 Do you remember Mrs. Gooch's health food stores? Opened in West Los Angeles in 1977, Sandy Gooch's markets served Southern California hazard-free food until Whole Foods acquired it in 1993. If you remember it fondly, you're ripe for the picking. And let's face it, if you're reading this you know its time for an escape. Religious experience or not, the desert is dialing your exhausted and stressed number. Life can take its toll, especially for those who spend a great portion of their day trudging through traffic under the constant sun of Los Angeles, California. It's only human to reconnect with nature by departing the idiosyncratic superficialities that surround you: billboards demanding you lose weight, drink specific liquor, or watch the latest blockbuster that diminishes your intelligence. Let a Midwesterner tell you weeks of nothing but vitamin D infused blue skies can cause disenchantment!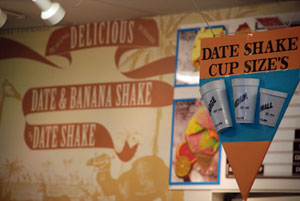 The cure? Hop in a Prius for a three hour, fifteen dollar trip to California's most nouveaux-riche desert ala Joshua Tree. Exodus from your car in Palm Springs for the best smoothie this side of the Mojave. Hadley's Date Shake, infamous for its delectable dates has an ample selection of nuts, dried fruit, gifts, and photos of your favorite celebs that have tasted Hadley's desert nectar. Dates+bananas+ice cream = dessert oasis.
Still sugar high from the aftertaste of your date shake, you'll find Joshua Tree around the mountain with its idealized rock formations, miniature squirrels called white-tailed antelopes, bearded dragon lizards, muted jackrabbits, sparrows with Zorro-tipped wings, and bad-reputation ravens. Nature is just a shout away. Choose from nine camping grounds for ten-fifteen dollars a night. All you need is a tent and a love for constellations because you've never seen the stars out like this. Bathrooms can be found right behind you.
Get lost with your lover on the Boy Scout Trail, a scenic path through the edge of the Wonderland of Rocks. Play 'animal, vegetable or mineral' as you observe the infinite supply of the splendid Joshua Tree, the endless entities that the terrain is named after. In case you get distracted discussing the first time you saw Welcome to the Dollhouse and Rocky Horror Picture Show amongst other winsome childhood memories and lose the trail completely, the road in the distance will serve as salvation.

The Barker Dam hike is as short as it is glorious, with views of the incredible marsh and The Wall Street Mill if you can find it. Let Sam Shepard be your guide and stop to read a play or two after you run out of water and your back has never felt so sweaty. If you're still lost, find a nice military man to pick you up in his hefty SUV and take you to safety, after telling you where you went astray, and allow him to recommend less confusing trails, and where to eat dinner.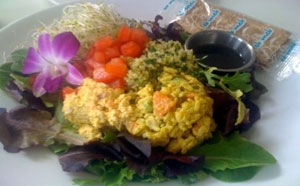 If you're husky like a Hummer and like greasy chips, check out the 24-hour Mexican joint, Santanas, where guacamole-flavored sauce pours over massive burritos that come in two's. Black Angus beef may disrupt your camping so stick to veggie burritos with beans and cheese that won't be much better. If you're a health nut and like to drink bee pollen, The Natural Sisters Café offers homemade ginger kombucha, delicious quinoa to revitalize your energy and a subtle wrap with sprouts and hummus serves as a delightful post-hike snack.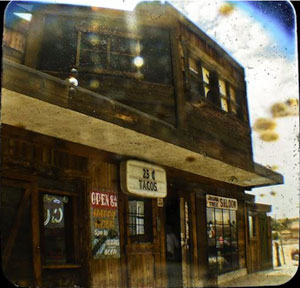 The old fashioned saloon near the camping entrance offers karaoke and live music that's reminiscent of The Grateful Dead, The Band, ZZ Top, and other bands that were sold to big business just like Mrs. Gooch's. Of course vintage shopping is a must if you like corny boots, colorful striped turtlenecks, and kitschy western shirts that scream 1974. Cruise up to Kit Kat Koral's barn for women's t-shirts and other fun apparel and, if you're spirited, go find Gram Parsons' ashes notoriously floating around the area. Fleetwood Mac's 1979 classic Tusk is the perfect exit music for your cheap drive back to the City of Angels. So…now do you think you're the one?
Oh, did I mention bathrooms are provided with Mother Nature's blessing right behind you? The outdoors is as convenient as it is boundless in the camper's paradise called Joshua Tree.