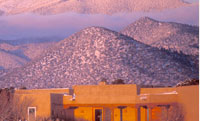 A trip to Santa Fe is at once exhilarating and embarrassing. You say to yourself, "how can I be so corny and fall in love with the food, the shopping, the art, and the physical beauty all over again?". And yet, you do, embracing it all as you roll your eyes at your own enthusiasm. The food, of course, is of superior class with an emphasis on how we want to eat today: local and seasonal. And each Santa Fe friend has their own passionate reason why their favorite restaurant has the best green chili. But there is more to the palette of Santa Fe food than traditional Northern New Mexico cuisine, as good as that is. Here are a half dozen of my personal favorites. One of the great things about them all is their unique points of view on feeding you. Unique, like Santa Fe itself.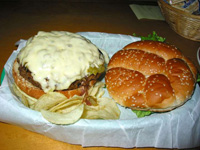 BOBCAT BITE
420 OLD LAS VEGAS HIWAY
SANTA FE, NEW MEXICO
505-983-5319

You could visit Santa Fe many times before a local takes you to Bobcat Bite. I did. I think it's so small that no one wants a tourist to take up precious space. But when and if you wrangle one of the very few seats, you will be treated to an exceptional burger of mighty proportions. Thick and juicy, from local cattle, with chilies and cheese or without, this is a memorable burger. I hear the rib eye steaks are good, too.
CAFE PASQUAL'S
121 DON GASPER AVE.
SANTA FE, NEW MEXICO
505 983-9340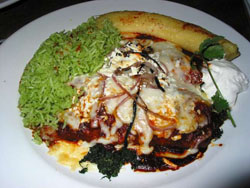 Because Cafe Pasqual's is a Santa Fe institution and because it is so close to the square, you could mistakenly think it is just an overrated tourist restaurant, ignored by locals. But three different Santa Fe residents suggested we meet there on this visit. I suspect winter is the time that locals get to enjoy a place like Pasqual's when it isn't overrun by visitors. The stunning interior, tiles, a tremendous mural by Oaxacan artist Leovigildo Martinez, artist shows, is a showcase for the wonderful food. Breakfast, lunch and dinner all have their charms. Breakfast offers everything from Huevos Motulenos (eggs over black beans, sautéed bananas and other good stuff), pan fried trout, delicious pancakes to fried corn meal mush, either blue or yellow. Lunch features Northern New Mexican specialties, plus good mole dishes and a Rueben with Niman ranch corned beef. Dinner offers thoughtful combinations that require real cooking skill to pull off. I can still taste their Chilies Nogada in my taste memory: the chili stuffed with squash, dried fruit and nuts, then coated with a goat cheese sauce and pomegranate seeds. It was traditional, but with Cafe Pasqual's own twist.
COUNTER CULTURE
930 BACA
505 995-1105
Counter Culture is a big, open room in a hip strip of tin buildings where you order at the counter and find a table, then the food is speedily delivered to you. There is a counterculture vibe to it, clearly indicated by the hair color and dress style of the employees. But one bite of the gigantic cinnamon rolls they offer indicates that no one is slacking off back in the kitchen. The excellent entree salads and sandwiches are very modern and well executed. The coffee is good, too. It's worth the trouble of getting your own silverware and bussing your table.

EL TESORO CAFE
500 MONTEZUMA
INSIDE SANBUSCO CENTER
SANTA FE, NEW MEXICO
505 988-3886
Combing two favorite Santa Fe activities, shopping and eating, is just where El Tesoro comes in. Located in an up scale indoor shopping "mall", El Tesoro gives you the opportunity to eat world class food without stepping outside. And world food it is. I got the impression that the origins of the food were from south of Mexico, perhaps Guatemala or Dominican. The tamale was wrapped in banana leaf instead of corn husk, the chalupa had a smear of black beans, not pinto, and the whole of the eating experience was very enjoyable and not too familiar, not unlike the first time you visit a country and find a good little cafe on your very own, but aren't sure what you're eating or what those good flavors are.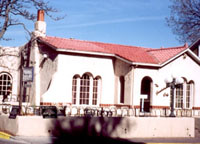 GUADALUPE CAFE
422 OLD SANTA FE TRAIL
SANTA FE, NEW MEXICO
505 982-9762
This is the place to have your green chili fix. An old established cafe right next to the state capital, it has an interesting mix of state legislators in from the out lands, state office workers and everyone else who wants good food and to overhear state business gossip. All the green chili dishes are top notch.
HARRY'S ROADHOUSE
96B OLD LAS VEGAS HIWAY
SANTA FE, NEW MEXICO
505 989-4629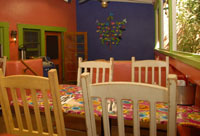 On your way to Bobcat Bite, you must have wondered about all the cars in the parking lot at Harry's. Day and night, Harry's lot is full and the roadhouse itself is packed and resonating with the happy laughter that comes from satisfied customers. Good service and good food, which is a mix of traditional green chili cuisine and the meat loaf culture of diners reflects the full spectrum of customer types. Everyone has a good time at Harry's, especially if you end your meal with the peanut butter ice cream/chocolate sandwich thing. It couldn't be better, just like Santa Fe itself.