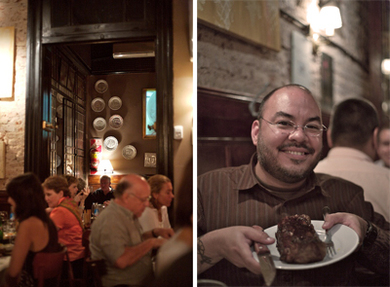 I like to think I have a decent grasp on the 7 deadly sins. I'm not overly vain, anger isn't an issue for me, and sloth & laziness have never fit into my neurotically busy life. But when we headed to La Cabrera in Buenos Aires for dinner last night, that one little tiny vice-o-mine came crashing into full view.
Ladies and gentlemen, I give you Gluttony.
Yea yea yea, I know it's a sin. But it was my birthday and I'll find any excuse to indulge and overdo it on every possible level. And last night I think we all exceeded our goals.
Buenos Aires is packed with parillas, the traditional Argentine meal of grilled beef that makes the Texas barbecues I grew up with pale in comparison. It's not my goal to incite a riot here, but you can't deny the love and passion the porteños have when it comes to their beef. I figured there could be no better way to celebrate than with wine, beef, and good friends.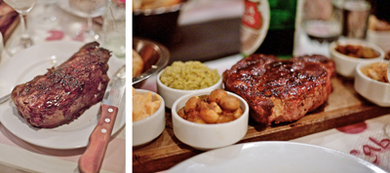 La Cabrera is located in the Palermo Viejo area of Buenos Aires. Filled with tree lined streets, the area is home to small boutiques, cafes, warehouses and artists' galleries and is quite the hot spot for hipsters and urbanites alike. I've had my share of parillas, some great and some not-so-great, so when La Cabrera was recommended by everyone we met along our trip I knew it could not be missed.
We arrived at 9 to a restaurant that was cozy yet packed, loud and filled with the sounds of people leisurely enjoying a meal. We were strategically seated in the crowded room, ordered a decent bottle of torrontes and proceeded to sin. And sin we did.
I'm had my share of large meals, but my eyes and delicate sensibilities (hahaha) are always so shocked when an Argentine steak is placed before me. It's always large, it's always prepared with nothing more than salt, and I always wonder if I will be able to finish it. And finish it I always do.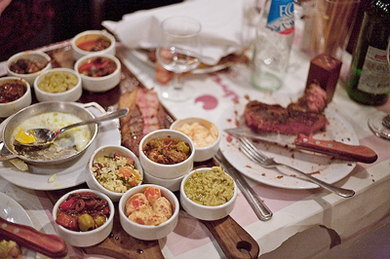 I ordered ojo de bife, a punto. This is basically a rib eye, prepared "a punto" which translates to medium. As a rule, Argentina tends to cook their meat longer than we are used to, and this fact caused a bit of frustration with my traveling friends (we've sinced learned to ask for things "jugoso").
But in La Cabrera's case, my steak was perfect and completely delicious, served with an assortment of sides like eggplant and nuts, couscous, tomatoes in sauce, sweet pickled garlic and various small salads. Yes, I tasted everything that was offered, but I was so completed enthralled with my steak that almost nothing else seemed to exist in that moment in time.
Like most meals here in Buenos Aires, we left a few hours later, completely satisfied and in a true beef frenzy. La Cabrera was so completely delicious that we have plans on returning and doing it all over again next week.
Gluttony never tasted so good.
José Antonio Cabrera: 5099, C1414BGQ Buenos Aires, Capital Federal, Argentina / +54 11 4831-7002
-- Also published on MattBites.com