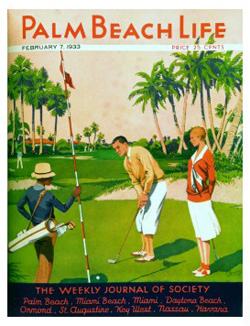 There are strict rules to live by in Palm Beach according to the Shiny Sheet (our local newspaper). Rule Six, for example, is – No socks. Ever. If your feet tend to become cold easily, consider purchasing a pair of Stubbs & Wootton slippers, but Rule Number One – the one broken that could destroy one's standing at Club Collette is the following:

"One does not travel over a bridge.  In the event of a hurricane evacuation or a gala benefit at the Norton Museum, this rule can be waived, but only under those circumstances."  In other words do not be caught dead in West Palm! Bill and I, however, gladly risk our rep to eat at Sushi Jo's – a storefront, plate glass dive in the middle of a strip mall in West Palm Beach Florida, proclaiming itself "sushi for sexy people", whose chef is named Jo Clark – Can it get any better than that!

Sushi Jo's chef, Joseph Clark's first "joint" was at the Ritz-Carlton in Manalapan, after having apprenticed at Yama in Lake Worth. This chef is Occidental, L*O*C*A*L and Unashamed!

"Fresh" also comes to mind! Everything at Sushi Jo's is deliciously fresh including the sexy wait-staff, and it is always fun waiting to see if you actually get what you order.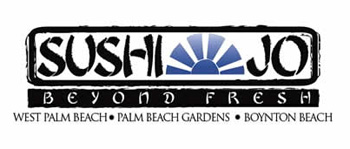 I have not yet tried their Sashimi Pizza: a choice of escolar, salmon or hamachi on a grilled tortilla with avocado, red onion, masago, tempura crunch, tomato, cilantro spicy mayo and sweet chili sauce. (Yum, but seems more tostada than pizza!) Sounds great, but to begin, I always go strait to their Hamachi Sashimi with Thai mango Salsa or Jalapeno.  Both are sexy (like the people who order it, Sexy seems to be a criteria for food, clients, and staff here.) I - who would eat 
tortillas with butter and jalapenos for breakfast - love the sexy touch of mango salsa or the jalapenos!

My favorite dish, however, and the reason I will risk my reputation to cross Southern Bridge is their Kobe Beef Tartare.  It is perfect.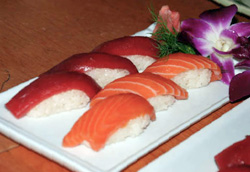 Back to the menu: The specialty rolls include such tempting names as Red Light District, Sexy Salmon Skin and Sex on the Beach, but, no "I'll have what she is having hand roll." I can never make it to desert, but beyond the usual green tea and red or green bean ice cream they offer Sticky Rice with Mango and Reeses Peanut Butter Pie.

I guess one could simply order the "I would like the Sexy, please," and just sit back and wait, but we get it already, Sushi Jo's caters to the under eighty year old crowd! How sexy is that!
Sushi Jo
319 Belvedere Rd.
West Palm Beach,FL 33405
(561) 868-7893