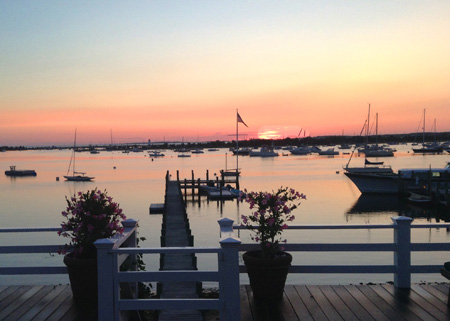 This June, we sold our Lambert's Cove home in Martha's Vineyard, and now, it's August, and we find ourselves across the Island in an enchanting ship captain's home (yes, it has a Widow's Walk) on Tower Hill overlooking Edgartown Harbor. Goodbye Breathtaking Sunsets – Hello Gentle Sunrises!
Being in someone else's home with so many personal touches is a new experience for me, and it has taken me at least two weeks before I began the exploration of personal effects: Family photos of towheaded children proudly displaying recently caught fish, water colors from local artist, Ray Ellis (who at one time owned the house), ship models, A 12 foot Herreshoff and Boston Whaler anchored by their pier, 19th Century Currier and Ives prints – one of which is too current for comfort! - and hundreds of Noah's Arks seen in toys, rugs, chairs, paintings and sculptures. Its' ghosts speak of wondrously happy summer days and Scrabble/Monopoly nights!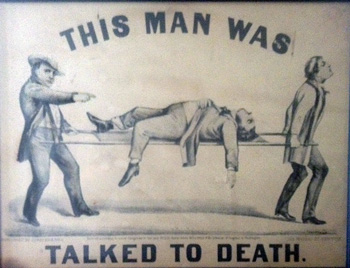 And, a shelf filled with cookbooks. I love old cookbooks – especially ones that are spiral- bound from local churches, societies, and veterans groups - but the one that caught my eye was a small but beautiful book, The Philadelphia Museum of Art Presents The Fine Art of Cooking.
So very Mainline, this sweet 250 page book, that includes illustrations from the Museum collection, was self-published in 1989 by the Women's Committee of the Philadelphia Museum of Art. Perhaps it may still be on sale at the Museum Gift Shop.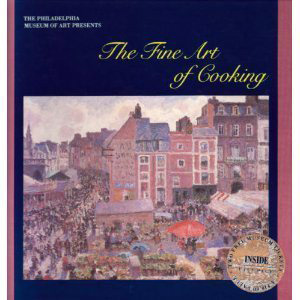 The recipes appear quite sophisticated and include Crab in Whiskey Cream Sauce, Escargots with Champagne and Hazelnuts ("definitely worth the trouble") and a lovely "Supper After the Concert for Twelve" which included Caviar Dip in Pumpernickel Shell surrounded by Cucumber Circles and Fingers of Black Bread, Champagne and Iced Vodka, Shrimp and Lobster with Wild Rice and Chablis, Watercress and Pear Salad, Toasted Discs of French bread, and Normandy Apple Tart.
Anyone out there ready to pull this off after a concert? (Though, methinks this concert means symphonic not Springsteen.)
It was really difficult to make a selection from the recipes in this little book, but I picked the ones below as they sounded so beautiful together, and perfect for the coming chill in the air.
West Indian Leg of Lamb
"The exotic feature is the coffee-flavored sauce"
Serves 8
1 5lb leg of lamb
1-tablespoon salt
2 cloves of garlic, thinly sliced
2 cups very strong coffee
1/2 cup orange liqueur
1-tablespoon molasses
1-tablespoon dark brown sugar
1/2 teaspoon allspice
1/2 teaspoon cinnamon
1/4 teaspoon mace or nutmeg
Salt to taste
1-tablespoon cornstarch
Preheat oven to 325 degrees F.
Rub salt into lamb. Make incisions randomly over lamb surface with tip of a small knife and insert garlic slivers
Combine coffee, 1/4 cup orange liqueur, brown sugar, molasses and spices. Brush sauce on lamb. Place lamb on a rack in shallow roasting pan and roast for 25-30 minutes, basting frequently with sauce. Lamb should register 160 degrees on meant thermometer when finished. Remove lamb to serving platter and tent with foil to keep warm while making gravy.
Pour pan dripping into a saucepan. Mix cornstarch with a little cool water and whisk into gravy. Stir over low heat, adding more water, if necessary, until gravy lightly coats spoon and is clear.
To serve, pour remaining 1/4 cup of orange liqueur over lamb and ignite. When flames subside, carve and serve immediately with Mushroom Mousse.
Mushroom Mousse
Serves 12 to 16
2 pounds mushrooms, chopped
5 tablespoons plus 4 tablespoons unsalted butter
4 tablespoons all-purpose flour
1 cup light cream or milk
3 eggs, separated
Salt and pepper to taste
1/4 cup sliced sautéed mushrooms as garnish
Preheat oven to 325 degrees F.
In a large frying pan, heat 5 tablespoons of the butter. Sauté chopped mushrooms until tender (about 5 minutes). Remove from heat and drain well, reserving the liquid. Place mushrooms in a large mixing bowl.
Melt remaining 4 tablespoons of butter; add flour, and cook, stirring constantly for 3 minutes. Add cream slowly, mixing well. Add 1 cup of the mushroom liquid and stir well to combine.
Add 1 cup of the mushroom-cream sauce to the reserved mushrooms. Season well with salt and pepper to taste. May be prepared 2 hours in advance. Cover and refrigerate. Bring to room temperature before continuing.
Beat egg yolks until fluffy; stir into the mushroom mixture. Beat egg whites until stiff. Fold into the mushroom mixture and pour into a 2-quart ovenproof soufflé dish.
Place soufflé dish in a slightly larger pan filled with 1/4 inch of warm water. Bake 40 – 50 minutes or until set. Serve immediately, garnish with sliced sautéed mushrooms. The remainder of the sauce may be served as an accompaniment at the table.
The last days of summer on the Vineyard always hint of fall and to all the delicious meals that seem best served in front of the unwinding atmosphere of a roaring fire.
End of Summer in Edgartown Photo Gallery
Nancy Ellison, award winning photojournalist and celebrity portraitist, has authored fourteen books of photographs, including "Romeo and Juliet: The Love Story in Dance" and "Starlet". Her latest book is "Wagner's Eternal Ring". End of Summer in Edgartown