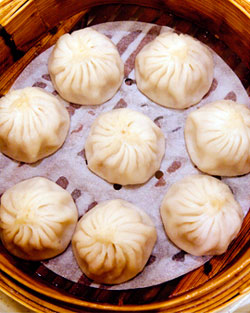 To understand the food in Richmond you must have a quick lesson on demographics and history. Don't worry, it's quick. Richmond began to see many immigrants from Hong Kong and throughout Asia after World War II, with a great number flowing in during the 1990s. Currently, Richmond is 65% Asian, 49% of those are Chinese. You'll find other Asian cultures as well, particularly Southeast Asian as well as a mix of other cultures from all over the world. But this predominately Chinese makeup means restaurants, stores, shops and markets all cater to an Asian population, and visiting and eating is pure heaven for a guy like me.
What you won't find in Richmond is a central Asian neighborhood, a place that announces itself with a banner or red arches as a gateway to a Chinatown. Here Chinese culture here is woven into every aspect of living, reflected not only in its citizens but also through signage and everyday life. I have never felt more like a visitor in Asia than I did in Richmond, and considering I was still standing in North America my mind was blown away.
Then there's the food. Oh my goodness, the food. The New York Times said Richmond has "the best Chinese food outside China" and I'm not going to disagree. If there's one thing I've learned from my trips to Asia it's this: food must be of a certain quality, taste good, be made and served properly…there are definitely standards. Richmond was no different. Each restaurant I visited seemed to outdo the last as I sampled Hong Kong-style comfort foods, Malaysian noodles, a Shanghainese dim sum as well as glorious food courts within 2 distinct Asian malls.
With my Tourism Richmond guide Stacey Chyau we headed to a few places to eat and it eventually became clear that I just couldn't get enough of Richmond.
Lunch was a dim sum at Shanghai River Restaurant, 7831 Westminster Highway. Marvelous flavors, quite subtle and delicate, with cooks making handmade noodles in the kitchen. Quite possibly the best xiao long bao (soup dumpling) I've tasted, with perfect pork filling and enough steaming hot liquid inside to really satisfy. Other highlights included the jelly pork, a slab of gelatin and pork served cold as well as the unsweetened doughnut that's dipped into slightly sweetened warm soy milk. Fantastic!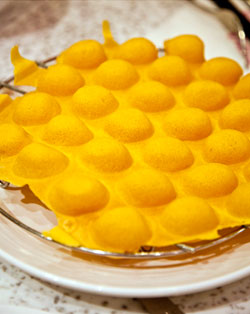 Later we headed to the Golden Village neighborhood for a visit to Alexandria Road, also known as Food Street. Get this: over 200 Asian restaurants within a 3-block radius. OVER 200! Yes yes yes yes yes. I'm already planning a trip to return. Our triplicate-dinner began at Cattle Café, 1020-8580 Alexandra Road, for a bowl of Laksa followed by Ginger Deep Fried Chicken Wings.
We finished our meal at this bright, modern fun spot with Condensed Milk and Butter Toast. Think French Toast with lotus jam between two eggy slices and dipped in honey and yes, it was as fantastic as it sounds. We also dove into Bubble Waffles before finishing our Hong Kong-style Milk Tea & Coffee, a perfect combo of tea and coffee made with evaporated milk. Definitely East meets West.
Second on our list included a stop at Claypot Hot Pot and BBQ, 105-8291 Alexandra Road. As it began to drizzle and the temperature dropped I could think of nothing better than a stop for Hot Pot. We mixed our condiments into the perfect dipping sauce as we waited for our giant pot filled with two liquids of our choice to arrive. Once on the table it bubbled as we dipped a variety of vegetables and meats like lamb, pork, chicken and crunchy fish skin into the hot liquid.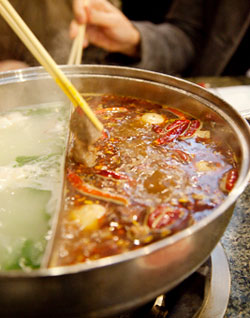 And when I say hot I mean that on both fronts: the spicy liquid was an oily combination of black and pink peppercorns, entire chiles, chile oil and spices that needed to be spicy enough to season your meat once removed. Too much of the hot broth on your food rendered your mouth numb and not much use for a minute or two. When that happened my mouth found refuge in the much milder side of the pot that contained a very simple gingery broth meant for greens and veggies. I really dig this style of communal eating, even if my mouth was temporarily incapacitated!
The third spot on our Dine Around (don't you just love that term?) was Jade Seafood Restaurant, 8511 Alexandra Road, a beautiful contemporary restaurant located upstairs in a shopping strip. This award-winning spot was packed with an older crowd enjoying a meal and was the perfect place to end the night. The roasted squab really hit the spot.
The next morning I was up bright and early to explore Yaohan Centre and pay a visit to Osaka, a grocery store that specializes in a whole variety of Asian cuisine. Like many Japanese markets, it was a sparkling, glistening superstore but my guides had to pull me away.
If there is a sambal, a gojuchang, a soy sauce, a vinegar, a sriracha, a chile paste or sauce that wasn't on this aisle then chances are it doesn't exist. Anywhere. This was nirvana right here and I wanted to stuff my suitcase with one of each. But I didn't.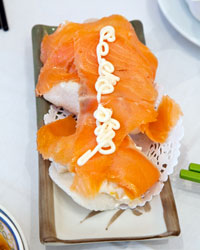 After our market visit it was off to Aberdeen Centre, 4151 Hzelbridge Way, for more dim sum at Fisherman's Terrace. Those who know me know I can't pass up a congee EVER so luckily I was able to order a bowl to get my morning started.
A Richmond, Chinese food eye-opener? Light pastry wrapped around things like pork and roast beef. Delicately tender noodles. Things that are so exquisite and special I could cry. Flavors with finesse that I'll obsess over until I return.
Most interesting: A smoked salmon slice on top of ambrosia-style salad over a prawn chip with ribbons of Japanese mayo. This West Coast Fisherman's Terrace original was unique and unexpected.
My last stop in Richmond was Park Place Mall, a very modern old-school Asian mall. Did that make sense? Old school in the sense that it's what you'd see pre-sparkling modern Asian shopping center. Filled with herbal, tea, clothing and gadget shops, we were here to check out the humble food court, where I met with a representative and learned that the food court limits the type of restaurants located within so that it represents the best of the best: the best curry shop, the best noodle shop, the best dessert shop, the best bbq shop, the best candy shop, you get the picture. And let me tell you: this place had me hungry all over again.
Of course, there was one place inside Parker Place that everyone kept talking about. Non-stop. It seemed to be on everyone's mind, a favorite of the locals that wasn't quite a deli or restaurant but more of a butcher shop. I knew I had to investigate.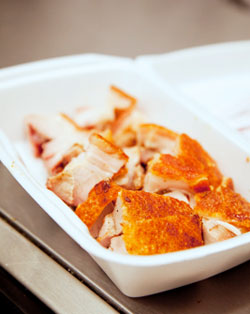 Ladies and gentleman, I give you the Parker Place Meat & BBQ shop. Also known as the happiest place on earth. Apologies to Disneyland.
OH. MY. GOD. There are no words to tell you just how delicious their Roast Pork is. It's easily followed by their BBQ Pork. The long lines into this store easily tell you this pork is a local favorite, ordered freshly chopped in a pound or two, taken home and served with steamed rice and a few sides.
Each piece of meat is a study in pork perfection: three distinct layers of meat, fat, and crunchy skin (the skin being thicker than you'd expect) resulting in a crackly brittle break that is a blessed contrast to the warm fat.
No, I have tasted nothing better than this pork and felt like a glutton for downing more than my fair share so quickly post dim sum meal. You would have done the exact same. Trust me.
For Tourism Richmond click here, for more information about Richmond, British Columbia, Canada, visit their official page at http://www.richmond.ca/home.htm
Matt Armendariz is a writer and photographer who lives in Los Angeles and chronicles his passion for food and travel on his blog MattBites. His latest book is "On a Stick!"