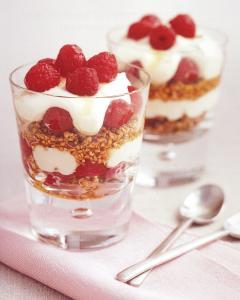 Well, the first thought I had driving through the streets of Edinburgh (and then later by train on the Royal Scotsman) is that the most impressive thing about Scotland is the great big hairy-chested men that roam about - similar perhaps to the "We like great big hairy- chested men – we are the senior class" which we used to sing about so wistfully at Marlborough. Now I know about which I sang! Seeing these critters who do indeed roam the streets in thin tee shirts and shorts when the rest of the world around them are dressed in sweaters and jackets, only remind me that they toss trees (the Caber Toss) in contest at the Highland Games and that in Clan Fightin' Days of Yore, they would tear off their kilts to go into battle - running naked through the heather and the thistles. Into Thistles? Naked? Who would dare pick a fight with these manly men?
So what do manly men eat? Well apparently they love dainty frothy deserts like Cranachan (a mixture of whipped cream, whisky, honey, fresh raspberries with toasted oatmeal soaked overnight in – what else - whiskey), Bread and Butter Pudding, and Edinburgh Fog with Sponge Fingers - whilst consuming a great deal of Whisky and Vanilla Fudge… together!
Sounds good to me! Also sounds kinda like Southern Cookin' (see earlier recipe on Mary K's Pig Pickin' Cake). Surely if Texans (Scots Irish to the bone) like their bacon baked in brown sugar until crisp) we can down our whisky with vanilla fudge. (Interesting factoid, the most delicately tinted whisky is distilled in used Tennessee Bourbon kegs)
My darling husband Bill, our friends, producer Charles Cohen, his gorgeous wife Clo and I were about to take a 'destination trip" on the Royal Scotsman and have only one night in Edinburgh – what to do? We could go local, trendy or perhaps find something that is truly Scottish with nothing green anywhere in sight. Found it!
THE WITCHERY, EDINBROUGH UK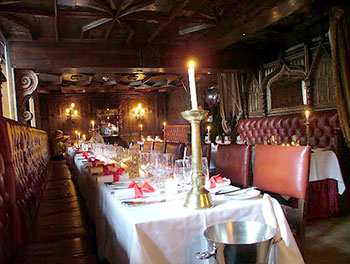 How bad can any eatery be that has served the likes of Boswell, Nicholson and Brosnan? That Thomas Boswell (b1822), Jack Nicholson (b1936) and Pierce Brosnan (b 1953) have more or less enjoyed the same cozy atmosphere does bring a warm glow to the heart… bringing to mind a play to be written by Tom Stoppard where Boswell accidently meets Bond and Murphy on the location of witch burnings (or was it hangings… whatever)
James Tomson established the Witchery by the Castle in 1979 in the near-derelict basement of an old town building (built in 1595) and later Boswell's Court. All in all it includes the restaurant, a secret garden, and a few very unique, private (ahem) hotel suites and yes, witches found their demise on this very site.
Not sure what it was like during Boswell's day but Jack and Pierce dined well - possibly, on Lindisfarne native oysters, grown on the seashore of the Lindisfarne nature reserve to begin, paired with a wee dram of 10 year old smoky Talisker, or their legendary Angus beef, Rump of Borders roe deer or slow cooked breast of St. Bides free-range chicken.
OK, so I passed up the Witchery haggis, neeps and tatties, (which is a traditional haggis blended with chicken mousse) in favor of those delicious oysters served on ice with lemon Tabasco and shallot vinegar. They were absolutely wonderful – firm and briney.
Dinner was perfection, and The Witchery has become one of my new favorite experiences – and one that truly makes you feel you are not in Kansas!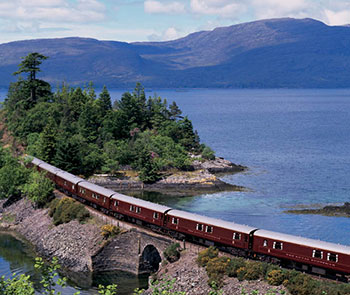 The next day we were piped onto the Edwardian styled Royal Scotsman for our eight day journey through the country side of Scotland, visiting castles, distilleries, and seaside villages happily partaking in all things Scottish – most notably their food and their music.
The train's Chef, Mark Tamburrini prepared delicious meals of Rannoch Moor Venison, Guinea Hen, Chicken (that actually had flavor), Pentland Lamb, Duck, local Angus beef, a variety of smoked fish including kippers of course, Shetland Halibut, Maillaig Scallops, Salmon and scrambled eggs for breakfasts, high teas, train baked breads, scones and croissants all of which were divine. The Carpaccio of Angus beef (Aberdeen beef salt-cured for three days and served with a chili crust, truffle emulsion and horseradish) was the most surprising in its subtle but distinctive variation from the norm. It may have been the best beef tasting experience I have had in ages, and I long to repeat it.
As I have alluded to anyone traveling in Scotland soon learns that Whisky R Us. The train offers a wee selection of forty different Whiskies – the oldest being GLENFIDDICH an 18 yrs old "married in small batches" and ISLAY an 18 yrs old Bunnahabhain... Our brilliant and charming Train Manager, Ian Gibson's favorite whisky also comes from Islay – the southern most Island of the Inner Hebrides… where to start where to start.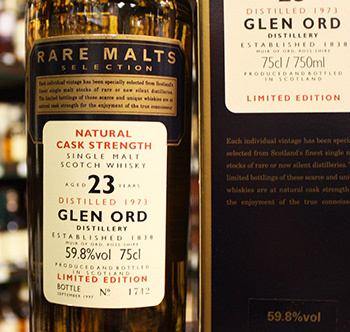 It helped that we visited the Glen Ord distillery and had a wee dram – well actually a wee tasting of three different drams… along with little bits to eat (vanilla fudge with the lighter whisky aged in a Tennessee Bourbon keg, a bit of local cheese or sausage with the whisky aged in the Spanish Sherry kegs. Damned if I am not currently hooked on that delicious Scottish Vanilla/Whisky fudge. And, I am quite prepared to pour whisky over anything edible – since (of course) the Scots are likewise inclined!
Of the three whiskies in our tasting, one – the Glen Ord blend (from both the Bourbon kegs and the Sherry kegs) was quite mellow, while the Whisky that offered the most local experience was their "smoky" Talisker which is heavily flavored with peat, creating an aroma similar to Lapsang Souchong Tea. Sadly, it is not just their candies (and shortbreads) that have caught my fancy; unfortunately, so has their unbelievably dreamy above mentioned manly men desserts - all quite frothy and celestial.
Ballindalloch Castle – one of our first stops on the eastern tour – offered a quick glimpse into the reality of landed gentry. Privately owned by the same family (The Macpherson-Grants) since the mid 16th century, the castle survives by offering a small hotel on the grounds, a private nine-hole golf course, fishing, hunting, and catering for corporate affairs etc. The current owner, Mrs. Macpherson-Grant Russell, inherited the castle and all its lands from her father, Sir Ewan Macpherson – Grant, 6th Baronet of Ballindalloch.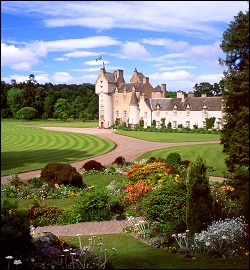 They have dedicated themselves to creating a very gracious, personal welcome to the travelers aboard the Royal Scotsman to the extinct that she is waiting outside as our party arrives. "The Ballendalloch herd of Aberdeen Angus Cattle is without doubt the oldest in the world." They are also picture perfect, reminding me of all the formal cow portraits of 18th century British painting.
In their publication on the castle, they have offered up a fine recipe for a roasted Filet of Angus Beef (from Clare Russell's book, "I Love Food.") Not only picture perfect, this herd of cattle tastes incredible. … Now here is the odd part: After all the indulgence, the laziness (No, I will not take a two hour walk up the slippery, craggy hill in the rain!) the whisky tasting, and bottles of fine wine, I could still wear my clothes. So, I figure this trip is well worth the two days of sugarless tea and saltine crackers that followed.
BALLENDALLOCH CASTLE'S FILET OF ABERDEEN ANGUS BEEF IN A CREAM, MUSHROOM AND CRAGGANMORE WHISKY SAUCE INGREDIENTS
1 Fillet of Aberdeen Angus Beef (Boneless Loin for Roasting)
8 oz Mushrooms
¾ pt Double cream
2 Onions finely chopped
6 Baked field mushrooms for garnish
Cragganmore whisky to taste (Oh yeah!)
METHOD: Tie fillet with string to keep its shape and roast (10 minutes per lb) in the oven at 400°F. Dot with butter and seasoning. Take it out, untie string and keep warm. Meanwhile, fry onions and mushrooms in a pan with butter. Add whisky to taste, double cream and seasoning. Simmer for a few minutes and pour over sliced fillet. Garnish with a few baked field mushrooms down the centre. Serve with brown rice and puree of carrot and parsnip.
THE ROYAL SCOTSMAN'S BREAD AND BUTTER PUDDING WITH CRÈME ANGLAISE (Makes 18 portions)
BREAD AND BUTTER PUDDING
1.5 pint Double cream
9 Eggs
150 grams caster sugar
150 grams raisins
1-2 loaves of soft bread (preferably baked by Mark)
Unsalted butter
Demerara sugar
Whisk caster sugar and eggs together, add cream and raisins. Butter bread and cube; add cream mix and leave to soak overnight. Pour and press into individual moulds and top with Demerara sugar. Bake in an oven at 170°C for 30-35 minutes until spongy when pressed.
CRÈME ANGLAISE
500ml full fat milk
500ml double cream
200grams caster sugar
12 egg yolks
Heat cream and milk until rolling boil and cook out. Beat sugar and eggs together until pale and the consistency of cream. Blend the beaten egg mix into the milk, whilst off the heat, place back on heat and thicken. For additional flavor, you can add vanilla seeds if you wish…  
Nancy Ellison, award winning photojournalist and celebrity portraitist, has authored fourteen books of photographs, including "Romeo and Juliet: The Love Story in Dance" and "Starlet". Her latest book is "Wagner's Eternal Ring".