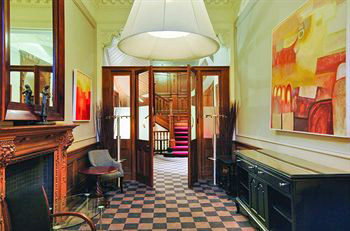 The contemporary elegance of The Bonham has been voted by Conde Nast Traveller Magazine as 'one of the coolest' 200 hotels in the world. Attracting a young, upscale clientele, the décor is playfully modern, the stark lines of furniture and fitments hone beautifully in colors of red, green and blue. Each room has different décor but all offer similar facilities to The Howard.
Maciej Szymik is the Executive Chef for The Bonham, told me that everything he needs is 'on the doorstep'. Suppliers come to the hotel with organic products from Perthshire; venison from Newham and other game from the Borders; fresh fish daily from the fishmonger in Dunbar who has two small boats catching lobster, langoustine, sea bass, turbot and brill, while salmon from the Summer Isles on the West Coast is smoked in whisky barrels with wood chips from the cask.
The chef updates French recipes and admits a liking for hearty peasant food. He calls the menu 'classical French Rustic'. Start with fluffy scrambled eggs and smoked salmon on crispy rounds of home baked bread. Then smoked salmon served on a bed of frizee with a dab of crème fraiche. The chef's take on onion soup is thyme scented, creamy soubise with blue stilton dumplings followed by oven roasted rack of lamb with dauphinoise potatoes, soft herb crust and roast garlic jus tranche.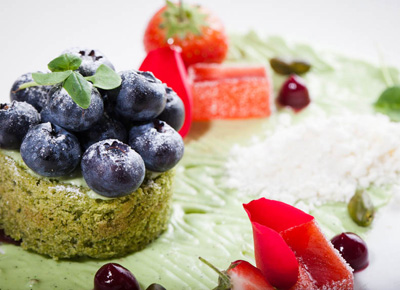 You might try such treats as a broad beans and smoked ham soup or a snails and asparagus casserole with champagne sabayon finished with fresh truffle, the roasted Gressingham duck supreme with a mushroom risotto, or pan-fried Scottish beef fillet with confit of aubergine, red pepper coulis and garlic pomme puree. Desserts include a glazed lemon tart with fresh berries and a wonderful dark chocolate marquise, pistachio anglaise and toffee ice cream. There is a selection of fine wines to complete a superb dining experience.
Yummy food brought to the table by young, most efficient and dedicated Scottish servers. It's lovely hearing them talk in their soft burrs! Besides a great choice of wines, Bonham offers a selection of top quality single malt whiskies sourced from three of the whisky producing regions of Scotland including Speyside and the Highlands. There is a selection of fine wines to complete a superb dining experience.
One can never get tired of all the splendors Edinburgh offers, so pack up your bag and go. You will be well pleased.
THE HOWARD: 34 Great King Street, Edinburgh EH3 6QH / 44 (0) 131 557 3500
THE BONHAM: 35 Drumsheugh Gardens, Edinburgh EH3 7RN / 0141 248 8888