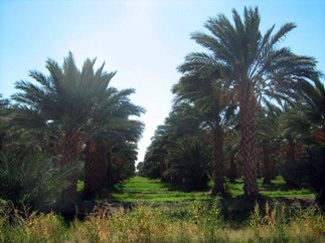 A couple of weekends ago, Martin and I headed out to Joshua Tree for a quick camp-out. Fall in the National park is spectacular. We enjoyed bouldering, dominoes, wine and beans by the campfire, a starry slumber, early morning coffee in our enamel-ware mugs and a wonderful hike to an Oasis.
The hike and camp-teardown got us hankering for a date shake, knowing that we would be driving through Thermal, CA., a.k.a. date country, on our way home.
Thermal is dotted with date gardens – they are not called farms or orchards. Date palms grow in the Coachella Valley and require something like 360 days of bright sun and 90-100ºF a year to grow, and man, do they thrive. You can visit date gardens to take tours and to buy dates. The November issue of Sunset has a great article about date gardens. This one, Brown Date Garden, looks pretty cool.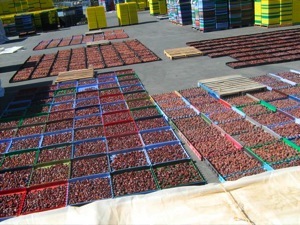 We visited a garden, poked around, sampled and purchased some dates, but when it came down to shelling out cash for a date shake, I froze, like the creepy soft-serve that gets blended with the date bits to make the oh-so-too-sweet shake. Even Martin, Mr. Eats Handfuls of Cookies for Lunch, lost his desire for a date shake upon seeing the frosty machine.
Hungry on the drive home, Martin wondered why they didn't blend dates with unsweetened ice cream for shakes.
"What a good idea." I answered. "Too bad it doesn't exist."
Ah, but thick unsweetened yogurt exists! And frozen bananas are thick and frosty when blended!
Here is a recipe for a not-too-sweet, super-delicious BEST DATE SHAKE!
For One Shake, blend the following ingredients until smooth:
6-ounces (about 2/3 to 3/4 cup) plain Greek-Style yogurt
1 large ripe banana, peeled and frozen solid (you can cut the banana into pieces to speed things up)
5 or 6 (to taste) pitted Medjool or Deglet Noor Dates
Enjoy!
Jeanne Kelley is an established food writer, recipe developer and food stylist based in Los Angeles, California. Integrating locally grown produce with globally influenced flavors, Kelley's approach to cooking is both simple, festive and fresh. Her recipes can be found in her latest book is Blue Eggs and Yellow Tomatoes: Recipes from a Modern Kitchen Garden
and on her blog Eat Fresh.