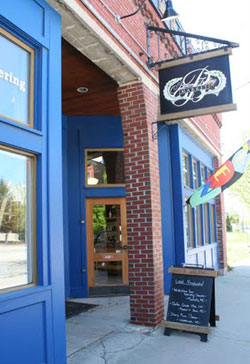 My sister and I went to Portland for the annual Champagne and caviar tasting at Browne Trading Company, a world class purveyor of high-end fish, caviar, smoked salmon, wine and cheese. Browne Trading Company is a Portland, Maine treasure like Petrossian is to Paris.
This little city on the harbor is only an hour ride from my home in Belgrade on a two-lane highway with hardly any traffic at this time of year. Portland is beautiful with many old restored brick buildings and a nice harbor view of small islands off in the distance.
To me, it looks like a mini San Francisco but much more manageable and the food scene is starting to be as exciting. A new restaurant, brewery, distillery or specialty food store have been opening every week or two for a while. Things are changing at warp speed!
I really like food shopping in Portland and love how close it is. Yesterday our first stop was the tasting and to do a bit of shopping at Browne trading. I bought a package each of Iberico Ham and chorizo, an iridescent fillet of farm raised halibut from Scotland that beckoned to me from the iced filled case and a baby octopus salad. We tasted four different champagnes from Riedel flutes accompanied by four different small spoonfuls of caviars. Life is good!

Trays of triple crème cheeses, crackers and dried fruit were nestled throughout the store along with platters of house smoked salmon and jumbo caper berries. I sampled to keep my energy up for shopping, how could I resist? It was a wonderful way to spend a cold, windy December afternoon in Maine.
Our next stop was to Veranda's, a brand new Asian grocery store that opened only 5 days ago. This shiny new store was huge, modern and filled with tons of fun things that in the past I had to drive to Boston's Chinatown to buy.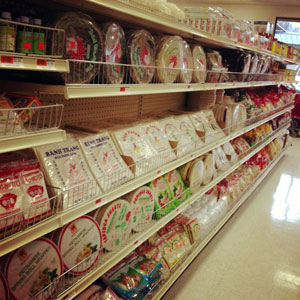 I filled my arms to capacity with hot sauces, Chinese vegetables, noodles, and dim sum as I waited for my hanging roasted pork to be chopped. I smiled when I heard the rhythmic sound of the cleaver chopping my char siu, a sound I had never heard in Portland before yesterday. And it's only an hour drive from home, how lucky am I?
As we leave Portland at dusk with our groceries in the back of the wagon the Christmas lights are just starting to light up. There is no snow on the ground yet, but it still looks very festive. As we drive North my sister turns on the radio to listen to the news as I plot how I am going to cook my stunning piece of Halibut and create a dinner around it.
I decided that poaching my halibut in a fragrant broth was the direction I would go in. With no fish stock in my freezer (oops) and no bottled clam juice in my pantry (another oops) I would have to start with a simple pot of Belgrade water and a little 'kitchen magic'.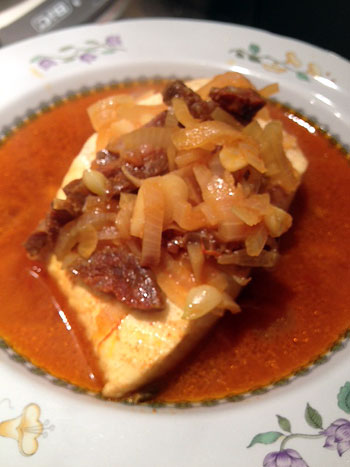 I started by adding chopped onions and garlic to the boiling water. Next, I stirred in a teaspoon of smoked paprika, a good pinch of saffron, a squeeze of lemon juice and a pinch of sea salt. A fragrant poaching broth started to emerge, just like I had hoped. My final step was to add the julienned chorizo before I lowered the halibut into the broth and turned the heat down to a simmer.
I measured my fillet-ten minutes per inch, I had a 12 minutes size piece. I set the timer for 6 minutes and basted the top of the fillet with the bright red liquid while I nibbled on my roasted pork appetizer.
Another 6 minutes and dinner was ready. I served it in a soup plate, arranged the onions and chorizo over the top, poured the broth around the fillet and I feasted on my afternoon provisions from Portland, Maine.
I have to go, the timer just sounded and my breakfast of steamed shrimp dumpling from Veranda's are ready...
Brenda Athanus runs a small gourmet food shop in Belgrade Lakes, Maine with her sister Tanya called the Green Spot.
The Green Spot
This email address is being protected from spambots. You need JavaScript enabled to view it.">This email address is being protected from spambots. You need JavaScript enabled to view it.
207.441.9327