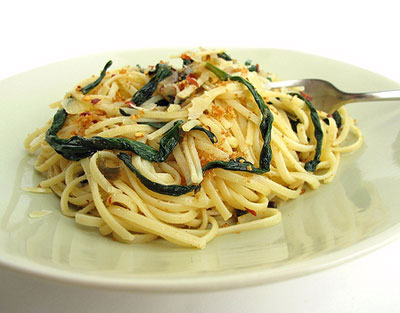 12 ounces linguine
olive oil
2 bunches ramps, white bulbs chopped
1/2 teaspoon chile flakes
fine sea salt
freshly ground pepper
1 tablespoon lemon juice
1/3 cup grated Parmesan cheese, plus more for serving
1/4 cup toasted breadcrumbs
Cook pasta in liberally salted water just until al dente, a few minutes short of the full cooking directions. Reserve 1 cup pasta water.
Warm oil in sauté pan set over medium heat. Add ramp whites and cook until very soft and almost caramelized, about 8 minutes. Add ramp greens and cook until wilted, about 5 minutes. Make room in the pan and toast chile flakes for 1 minute. Add pasta and combine. Season with salt and pepper. Stir in pasta water, lemon juice and cheese to create a thin sauce. Stir in half the breadcrumbs.
Serve with additional cheese and breadcrumbs. Yield: 4 servings.
-Recipe courtesy of Joseph Erdos