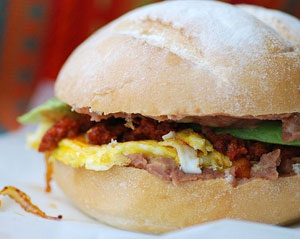 Seems the latest food trend is food trucks, more specifically gourmet food trucks. Or as one San Fransisco owner calls his, "mobile bistro." From LA to Austin to NYC, dozens of urban, hip food trucks are charming epicureans with fare ranging from duck dumplings to pavlova with red fruit gelée. Hotdogs and hamburgers have been usurped by their more politically correct cousins, organic free-range chicken and grass-fed beef.
But what about the old food trucks and carts? You know the ones – the quintessential LA taco trucks and the hot pretzel carts run by a gruff guys named Sully or Bobby. Are they being squeezed out? Last March in East LA, Mexican food truck owners, under fire from restaurants who claim they're hurting business, began a campaign called "Save Our Taco Trucks."
Personally, I'd like to see both camps succeed. Because, let's face it, getting affordable, healthful, organic meals from a food truck is terrific. So is getting an artery clogging carne asada (marinated steak) torta when the craving strikes.
I don't remember the name of the taco truck in LA where I tasted my first torta, but I do remember it was very late, I was very hungry, and the food was very good, soul-soothing good, actually.
A torta is a popular Mexican sandwich consisting of a split telera roll that is packed with any of various fillings ranging from meaty chorizo and pulled pork to vegetarian-friendly eggs and beans. In the US tortas have been called "American hoagies," "Mexican hamburgers," and "tacos on a bun." They're none of those; they are tortas, Mexico's beloved sandwich that comes in numerous regional variations. Like all quintessential Mexican street food, tortas are cheap, fast, and filling. They're also the new "It" sandwich if you trust author JJ Goode of Details magazine; he recently rung the death knell for the panini and bahn mi and christened the torta the "new best sandwich contender."
If you don't have a good taco truck near you, don't worry. Here's how to make a great torta:
1. Go to a Mexican market, and buy a good telera roll – a big, round, flat, mildly-crusty roll. (Bolilos are similar, but oblong in shape). Don't have a Mexican market? Use a Kaiser roll instead.
2. Choose your favorite filling – maybe ham, chorizo, steak, fried fish – and pile a lot of it on your telera roll. Lift the sandwich. It should be heavy and require two hands; if it doesn't, then add more filling.
3. Garnish the sandwich with a few toppings. Lettuce, tomato, and cheese are optional, but avocado, refried beans, and hot sauce must be included. Period.
4. Grab a big stack of napkins, a cold Dos Equis, and your oversized torta, then find a comfy chair. Plop yourself down on it, embrace your torta with two hands, and eat until your stomach hurts.
Egg and Chorizo Breakfast Torta
Makes 1 sandwich

This breakfast torta pairs well a glass of freshly squeezed orange juice and a big mug of strong coffee. Of course, I wouldn't stop you from enjoying it with a cold Dos Equis.

1 teaspoon canola oil
½ small red onion, thinly sliced
¼ pound chorizo
2 large eggs
Salt and freshly ground black pepper
Few dashes of hot sauce
1 tablespoon Mexican crema or sour cream, optional
2 tablespoons canned refried beans
2 slices of ripe avocado or 1 tablespoon prepared guacamole
1 telera roll, split in half, lightly toasted (or Kaiser Roll)
1. In a large skillet over medium heat, warm oil. Add onion and chorizo, and sauté for about 5 minutes, or until meat is browned and crisp.

2. In a small bowl whisk eggs, salt, pepper, and hot sauce. Add to the skillet; stir frequently until eggs are cooked through yet still soft.

3. Place telera roll on a clean work surface. Spread both halves with Mexican crema. On the bottom half of the roll add refried beans; top with chorizo and egg mixture and fresh avocado slices. Serve immediately.
- Also published on Susan Russo's site FoodBlogga.