FIRST PLACE: MACKENZIE SMITH
Grilled Mozzerella and Sopressata with Basil Honey & Red Pepper Flake Butter Sandwich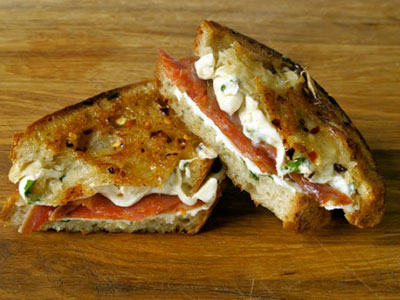 - 1 tablespoon of basil infused honey
- Fresh basil leaves and tupelo honey, OF COURSE
- about 4 slices fresh mozzarella
- 2 hearty slices of a Bâtard
- 5 slices of sopressata picante
- 1 tablespoon of red pepper flaked butter
Combine 1/4 teaspoon red pepper flakes with one tablespoon of real salted butter, MIX.
Coat one side of the bread in basil-honey, add layer using half of the mozz, add sopressata, rest of the mozz and coat one side of the remaining slice of bread with basil honey lay on top of sandwich. Coat both of the outsider sides of bread in red pepper flake butter and grill on medium-low for a few minutes until crispy, golden, and melted. Allow to sit for a minute and serve!
SECOND PLACE: BRENDA ATHANUS

Grilled Pimento & Black Forest Ham on Pumpernickle Bread
Slather the outside of the bread with the best homemade butter you can get your hands on. Spread a thick layer of pimento cheese on the inside of both slices of the bread and add an ungodly amount of thinly sliced Black forest ham on the bottom slice. Carefully put the top slice on without disturbing the layer of pimento cheese. Grill with a heavy pan on top, flip and grill the other side. Enjoy!
THIRD PLACE (A Tie!): SEALE BALLENGER and LINDA ABSE

Seale's Amazing Grilled Cheese Sandwich with a Twist

We know this isn't really a recipe per se but the addition of apples so intrigued us that we had to give it a prize, too. This, by the way, is a really great sandwich. - The Editors
Toasted Pumpernickel bread with gruyere/brie/blue cheese mixed, sauteed Vidalia onions, Granny Smith apple slices and honey mustard.
Linda's Grilled Gruyere, Bacon, Garlic Aioli Mustard Sandwich
Excellent bread made as they do in France.
Cut into thin to medium slices.
The best Gruyere cheese you can find used very generously
Applewood Smoked Bacon made crispy...at least two thick slices.
Black Forest Ham maybe used also or substituted for the bacon or use both.
I like a tiny bit of Sour Kraut in there.
Have your panini press heating up. Spray it with oil.
I butter the bread also.
A must is Garlic Aioli Mustard. I use Trader Joes - it's wonderful.
Press your sandwich in the press until golden brown outside and cheese is throughly melted inside.
Heaven on Earth and easy to make. Enjoy!
SPECIAL PRIZE FOR BEST WRITTEN: AMY JEAN MOORE
The Magic Grilled Cheese Sandwich from Detroit, Michigan
This sandwich simply conjures up magic.
Start with a gentle buttery-favored cheese. You can get a cheese from any of your local creameries, but the key here, is to know your cheese maker personally. It makes a difference!! Ask for a cheese on the more mild side. You'll see why in a moment. One of my favorites is called Haybo from the Cowslip Dairy in Western Michigan.
Next I take two slices of Avalon sour dough bread. Avalon is great bakery in Cass Corridor, and they will cut the bread for you, but I rather like the imperfect slices I make myself. I combine soft butter with a good dollop of truffle oil in it, just enough to send the taste buds into heavens. I butter one side of the bread with the truffle butter, stick the cheese in the middle, and grill it on both sides.
While it gets crispy and golden-brown, I dice some fresh parsley. I serve the magic cheese sandwich with parsley sprinkled on the top, cut in two to showcase the cheese, with a chilled glass of white wine. My favorite would be a rich Montrachet worthy of the magic.
Thank you to everyone who sent in recipes. And a special thank you to Erik Kelley of The Cheese Store of Beverly Hills for his inspirational Brioche Triple Crème Grilled Cheese -- we love this recipe!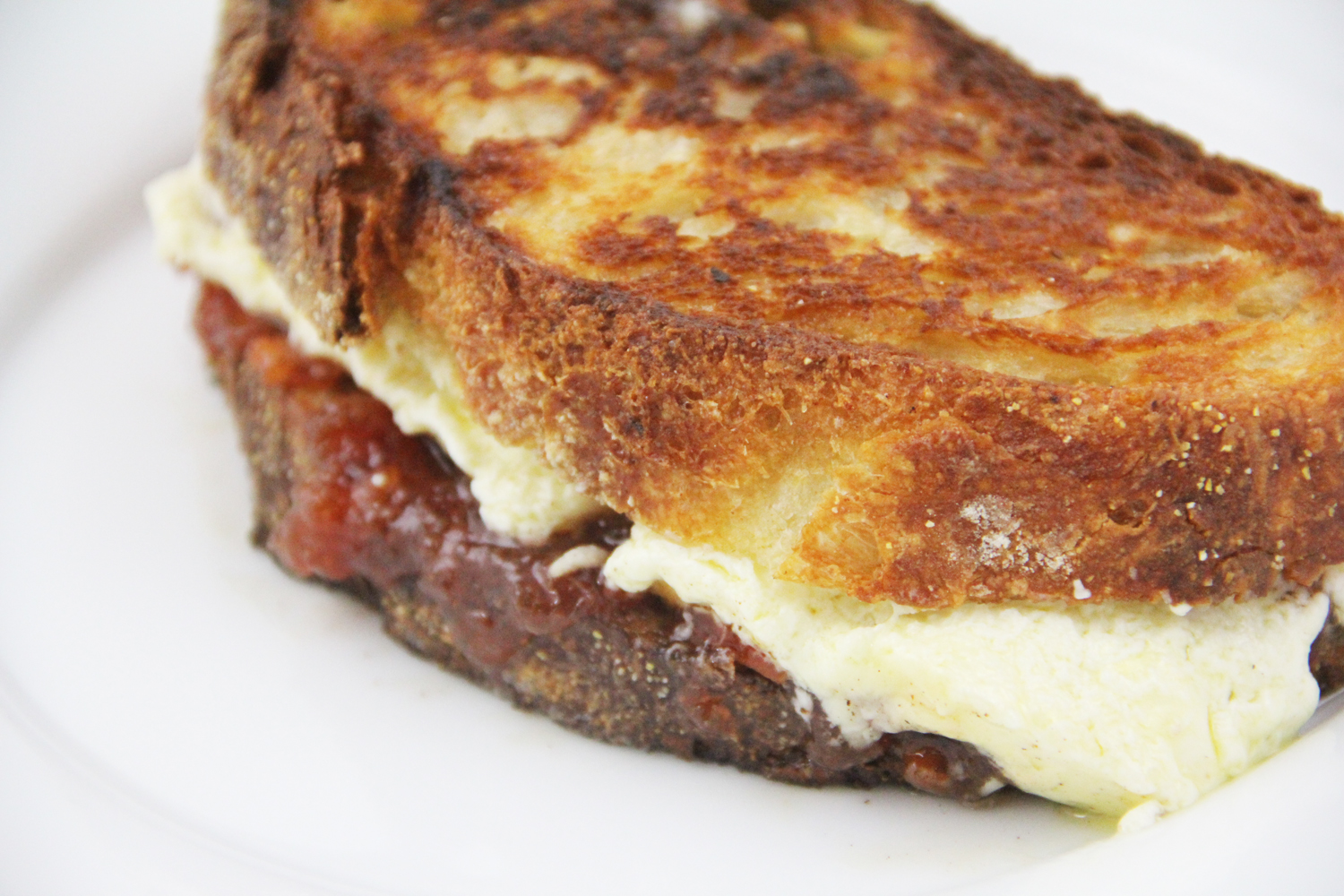 And, at the end, if you have a favorite grilled cheese recipe that you didn't send in, we'd love to hear about it!