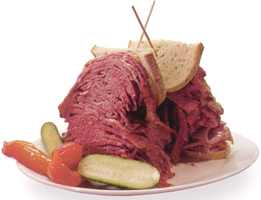 My family likes sandwiches. My present husband had his bachelor party at Langer's. The day before our wedding, while I was at a ladies' lunch thrown by my sisters, my husband, his son, my son, his daughter's boyfriend, my brother-in-law, and one of my nephews went to Langer's Deli (across the street from MacArthur Park) and ordered pastrami sandwiches, lots of them, I understand, more than one apiece. And it was further evidence to me that I was marrying the right person.
In our family, we think of sandwiches as comfort food. The slightest thing, a bad grade, a lost soccer game, a minor heartbreak can prompt any one of us to say, "How do you feel about a sandwich?" – which is code for: Let's all jump in the car and go to the fish market in Malibu, Bay Cities in Santa Monica, Bryan's Pit Barbecue in the Farmers' Market..." or any number of other places where they have a great sandwich.
One of the things you do not want to do when you're depressed is over-spend or over-eat and yet, the illusion of a treat is a perfect thing, which is where sandwiches come in. The great thing about a sandwich is it's cheap and it's filling (and not too filling, if you don't eat the whole thing and go easy on the sides), there's something about it that's cozy.
It's not like we're vapid – it's not like going to Disneyland and trying to pretend that the world isn't a mess and you don't have a problem, it's a way to go out in public (so that nobody can be melodramatic about whatever the problem is), sit down with one another, and talk and eat a terrific sandwich which, somehow, always makes the world feel like a more normal place.
And curiously, in health-conscious Los Angeles, where you think everyone just eats salads, you can actually find some of the greatest sandwiches in the country.
The Malibu Fish Market on PCH
Order inside, then sit on the patio, sip a soda, and watch for whales while you wait for your number to be called. The fried fish sandwich is in a class by itself – California red snapper, deep fried in a light batter (tell them to hold the cheese) served on a bun with a light smear of home-made tartar sauce. In the summer, there's a line out the door, but you can call from the car and your food will be ready when you arrive. They, also, make an amazing ahi tuna burger (which almost qualifies as a sandwich).
Bryan's Pit Barbecue in The Farmer's Market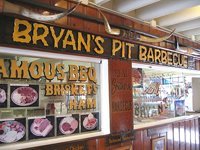 The Farmer's Market has had an upgrade, the strange Las Vegas-like addition of the Grove, with its white escalators and musical fountains worthy of a Joan Didion essay, and inside the original market, a bit of a face-lift, as well, with the hip cajun coffee shop, the Brazilian meat and salad bar, the French cafe, a sushi bar, the gourmet taco bar. But the Northeast end of the market is exactly as it was 40 years ago, Bob's Coffee & Donuts, an ice-cream stand, the retro Chinese food stand where they still serve egg foo yung, Magee's Kitchen (famous for it's horseradish sauce but secretly the greatest home-made cranberry sauce, worth the trip at Thanksgiving), and nestled in-between, Bryan's Pit Barbecue, old fashioned Texas-style barbecue, baked beans, overcooked corn on the cob, ribs, chicken and some truly great sandwiches. Our favorite is the chopped barbecue beef, the sauce is a little bit sweet, the bun is soft, and the whole sandwich sort of melts when you bite into it. Sit at one of the round formica tables with metal legs, lose the plastic lunch tray and admire the mixture of locals and tourists as you reflect on the curious sensation that you're lost in time.
Bay Cities on Lincoln Blvd in Santa Monica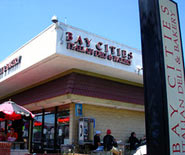 It's truly the greatest hero in the world. My son likes the Godmother which is a mixture of Italian meats, topped with shredded lettuce, and mixed spicy peppers, mustard, mayo, and a generous splash of vinegar, served on a fresh baked Italian bread, like a baguette, which is often still warm. Mine is more low-key, the turkey and swiss with shredded lettuce and sweet peppers and hold the mustard, please. You have to take a number and wait in line but while you're cooling your heels, you can drink a soda and shop in the market where they have an amazing collection not just of Italian sauces and pastas but, also, Indian chutneys, jams, cheese, home-made frozen lasagnas, wine, and Italian china. They have a new service where you can fax in orders for take-out, but these sandwiches don't travel well if you're going a long distance, there are so many things on it, the bread gets soggy. Sit at the stone tables outside and marvel at the fact that the young man next to you just ate two.
Marmalade on Montana in Santa Monica
If any of us is taking a long plane ride (and flight times allow), we order take-out turkey sandwiches from Marmalade and stop on the way to the airport to pick them up. The turkey sandwich, thick-sliced fresh-roasted turkey with tomato, lettuce, mayonnaise and cranberries on sour dough bread. Eat it, once the plane has taken off, for lunch or dinner. Something about the thickness of the bread, it doesn't get soggy – this is a sandwich that travels well.
Naturally on Sunset Blvd in Pacific Palisades
A truly great tuna fish sandwich. The storefront is nondescript, the only reading is holistic, but the tuna fish sandwich on whole wheat bread with lettuce, tomato and sprouts is amazing. I think there's a fair sprinkling of dill in the tuna fish but the secret is yogurt instead of mayonnaise. We've tried to make it at home but it doesn't work.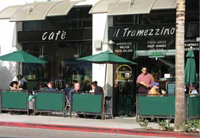 Il Tramezzino on Canon Drive in Beverly Hills
A different kind of comfort zone. It's packed at lunch but they're open till 4 a.m. on Friday and Saturday night. Most swear by the "chicken special" with a "secret" sauce that has something to do with pesto. But the vegetarian panini, with eggplant, red peppers, tomato, and arugula, is also great, as is the turkey panini. If it's 2 a.m., and you're in your 20's and from the west-side, inevitably, you'll run into someone you went to high-school with. Now, if only Fratelli's, the gourmet donut shop down the street kept the same hours.
Nate n Al's Beverly Drive Beverly Hills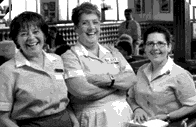 I wonder if I like Nate n Al's because it's always been there, or if it's because the bagels are still the best, as is the nova and whitefish, the banquettes are ridiculously cozy, and the waitress has worked there since 1965. There's something about it that forces you to order a Dr. Brown's cream soda and discuss whatever's on your mind. And the turkey salad on rye is like the greatest turkey salad in the world with celery and red peppers and a sweet mayonnaise sauce on a rye bread that's soft with a perfectly crisp corn-like crust. And, at the risk of being disloyal to anyone I live with, I like the pastrami sandwich, too, (it's a little bit leaner than Langer's). It's the perfect warm temperature with coleslaw on top and a smear of spicy mustard. If you're feeling slightly decadent, have it on a Kaiser roll instead of rye and watch the old guys at the table in the corner who always look, somehow, as if they're on their way to Hollywood Park (where, by the way, the Turf Club has a great corned-beef sandwich).