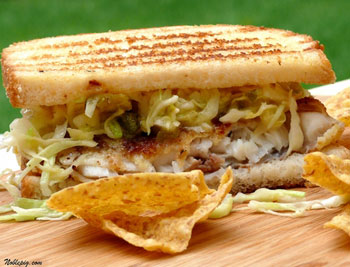 I love a good fish sandwich and it has been a while since I've had one. I came across this recipe using tilapia, a firm, forgiving and inexpensive fish. I loved the idea of piling coleslaw over the fish and using pulverized almonds as part of the crust, making it somewhat reminiscent of sole almondine.

The sandwich was crispy, sophisticated, fun and not to mention budget-friendly. It's a great addition to regular dinners around here. When we get home from working in the vineyard we are starving and this will hit the spot quite nicely without feeling like a heavy meal.

The fish remained juicy within its crust and the splash of lemon was the perfect finish. You can use any type of bread, toasting it or throwing it on the grill pan gives the sandwich a good textural contrast.

Try it out when you have some time.
Butter-Almond-Crusted Fish Sandwiches
From Everyday

2 Tablespoons Dijon mustard
2 Tablespoons pickle relish
1 Tablespoon honey
1/4 cup plus 1 Tablespoon vegetable oil
1/2 head small cabbage or 1/2 pound shredded slaw mix
Salt and pepper
1/2 cup sliced almonds, toasted
1 cup plain breadcrumbs
2 Tablespoons chopped fresh thyme or 1-1/2 teaspoons dried thyme
Flour for coating
2 eggs, beaten
4 fillets tilapia (about 1 pound)
3 Tablespoons butter
Juice of 1 lemon
8 slices good-quality white bread or split rolls of choice, toasted
Chips
Place a piece of fish and a big pile of the slaw on the toast. Halve the sandwich and serve with potato chips. I do think salt and vinegar chips would go best.
Cathy is currently in the development stages of her vineyard and winery in the Willamette Valley of Oregon. She is a food writer for Davis Life Magazine and blogs daily about wine, food and everyday living. She lives with her husband and two sons. You can visit her at noblepig.com.