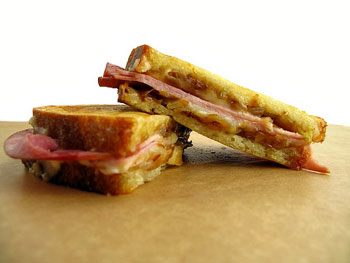 Lunches for me have been a mixed bag of sorts, I'm never sure what to eat, and I'm not always satisfied with what I get. But the sandwich shop near my workplace always seems to have the right sandwich for me. It's my standby.
'Wichcraft, pretty much a chain restaurant in New York City, in my opinion, has the best pressed sandwiches, among them the grilled Gruyère and caramelized onions. It is just mouthwateringly good with its oozy cheese and sweet caramelized onions. Whenever I need a comfort food fix, I always seem to gravitate toward this sandwich. It's simple and it always hits the spot. I've decided to come up with my own personalized version.
My version of this popular sandwich includes ham, for extra flavor. I use a panini press to make the sandwich, but you can also use a regular skillet, and just simply weight the sandwich with a foil-wrapped brick between flips. The caramelized onions can be prepared a day in advance, making this lunch come together even faster. Use either Gruyère or Emmental cheese for the best results in both flavor and texture.
Grilled Ham and Cheese Sandwich with Caramelized Onion
2 tablespoons olive oil
1 large Spanish onion, sliced
fine sea salt
freshly ground black pepper
2 slices country bread
2 tablespoons butter
2 slices Gruyère or Emmental cheese
2 slices Black Forest Ham
Warm oil in a skillet set over medium heat. Add onion and sauté, stirring occasionally, until golden brown, about 10 minutes. Season with salt and pepper.
Preheat a panini press or cast-iron skillet at medium-high heat.
Spread each slice of bread with 1/2 tablespoon butter. Top each slice of bread with caramelized onion. Lay over with cheese and ham. Press together and spread the outside with remaining butter. Grill sandwich until cheese is melted and bread is golden brown, about 4 to 5 minutes per side.
Yield: 1 sandwich.
Joseph Erdos is a New York–based writer and editor, butabove all a gastronomer and oenophile. He shares his passion for foodon his blog, Gastronomer's Guide , which features unique recipes and restaurant reviews among many other musings on the all-encompassing topic of food.