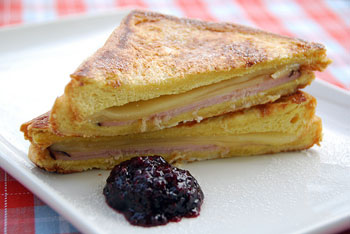 A Monte Cristo consists of ham, turkey or chicken, and Swiss cheese sandwiched between two slices of white or challah bread that is dipped in an egg batter, then grilled or fried in butter until golden brown. It is often dusted with confectioners' sugar and served with a side of red currant jelly.

The Monte Cristo is an American version of the Croque-Monsieur, the famed French grilled cheese and ham sandwich that is fried in clarified butter.
The sandwich first appeared on the menu at Gordon's, a restaurant on Wilshire Boulevard in Los Angeles, but it didn't get its big break until Disneyworld got involved. When the Blue Bayou Restaurant in the Pirates of the Caribbean put the Monte Cristo on its menu, its popularity soared.

I hadn't eaten a Monte Cristo since I was a kid, and I didn't remember particularly loving it. My, how things have changed. This sandwich has it all: it's sweet, salty, and chewy. It's addictive.


Monte Cristo Sandwich
Makes 2 sandwiches

2 large eggs
1/4 cup whole milk
1/4 teaspoon salt
1/8 teaspoon black pepper

4 slices bread (white or egg bread such as challah)
Butter for bread
4 slices turkey
4 slices baked ham
4 slices Swiss cheese
2 tablespoons butter, or as much as needed for frying

Confectioners' sugar for dusting
Red currant jelly (or jelly of your choice), or sweet mustard on the side

In a medium bowl, whisk together eggs, milk, salt, and pepper.

Butter both sides of each slice of bread. Place 1 slice each of ham, turkey, and Swiss cheese on each slice of bread and close the sandwiches.

Melt butter in a griddle or large fry pan over medium-high heat. One at a time, dip each sandwich into the egg-milk mixture allowing excess to drip into the bowl. Place on the hot griddle or fry pan coated with butter, adding more as necessary. Fry for about 3 minutes per side, or until both sides are golden brown.

Cut each sandwich on the diagonal. Dust with confectioners' sugar, and serve with a side of jelly or sweet mustard.

For a sweeter take, use egg bread and serve with dusted confectioners' sugar, fruit jellies, and fresh fruit. For a savory version, use white or wheat bread, skip the confectioners' sugar and fruit, and serve with a side of mayo or sweet mustard and some sliced pickles.

Shopping Note: Red currant jelly is widely available at supermarkets. Strawberry or mixed berry jelly make good substitutes.
Susan Russo is a free lance food writer in San Diego, California. She publishes stories, recipes, and photos on her cooking blog, <Food Blogga and is a regular contributor to NPR's <Kitchen Window. She is also the author of Recipes Every Man Should Know
and The Encyclopedia of Sandwiches
.