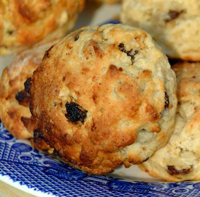 My mother stayed with us during her recent visit from back east. She emerged early each day from the back bedroom in need of coffee. In the kitchen she would find me up to my elbows in three-grain biscuit dough or in the midst of mixing a large oven baked pancake, or perhaps dropping oatmeal scones onto a cookie sheet. I was always in the midst of something made from scratch, time consuming and terrifically messy.
A ritual that was met with a quizzical look and her quiet reproach, as if I couldn't hear her say, "Nu? Whats wrong with frozen waffles?" My childhood breakfasts came straight out of a box from the freezer in the cold mid-western kitchen where I grew up. My mother taught in downtown Detroit, and early morning school days were mostly about getting up and getting out. Yet, somewhere in between the up and out part, I remember a breakfast ritual that my mother and I shared, just her and I, before she left for work.

When I was seven I woke each day to the sound of the faucet from the only bathroom in our small brick house. I would crawl out of bed and find my mother sitting on a heart shaped stool pulled up to the tiled counter just inside the open bathroom door. There she would apply layers of foundation, eye shadow and all the other beauty products that were so foreign and intriguing to my imagination. We would exchange good mornings and then into the kitchen I would go. My job was breakfast.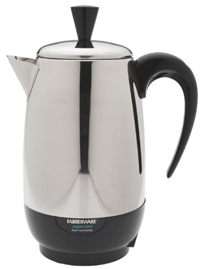 I remember switching on the coffee percolator it having been prepared the night before. From the bottom shelf of our freezer I would find a yellow box that contained our morning "Toasties." These were cornmeal muffins, square, flat and grainy, plain or dotted with specks of blueberries, pre-baked and frozen. I would toast them crisp and just the other side of golden. They were delicious buttered and that was how I served them on a tray along with the percolated coffee, poured into my mother's special brown ceramic mug, cream and little stirring spoon included. In the bathroom, I would find a small patch of counter that wasn't yet cluttered with little jars and tubes and we would eat together.

There was a different kind of clutter surrounding my family's breakfast. Cutting boards, used mixing bowls, a whisk, a spatula, perhaps a yellow lemon juicer. These were the items that littered the center island where I baked and my family ate. When the last carpool honk sounded this clutter became the mess that needed clearing and cleaning. While my mother visited she took up position at the sink her back to me and began to rinse the leftovers from the plates, day after early rising day.

Standing behind my mother handing her the dirty dishes I could see her face reflected in the window just above the sink. Her contented smile transported me back to that tiny tiled bathroom. It was there in that small space, cluttered with make up and a tray of breakfast dishes, that my mother and I would spend a morning moment, just the two of us, just as we were doing now over dirty dishes.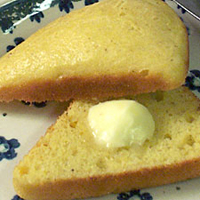 Back when breakfast was frozen and toasted, we would share it while I sat on the edge of the bathtub behind my mother sitting at her faux vanity counter. From this perch I could watch as my mother readied herself for the day. I loved looking at her in the mirror and talking to her reflection. Sometimes when I said something funny or sad or important she would stop what she was doing and turn around to face me. I could feel myself already missing her as I sat there taking bites of my buttered Toastie, and I even felt a kind of envy for those students, her students, who would spend their whole day with my mother.
So, I toasted our breakfast and we sat together in that tiny bathroom during the years we lived in our little brick house before we moved on to a bigger house with an upstairs master bath and downstairs self serve breakfast.

As we cleared and cleaned in my kitchen during her recent visit I understood that I could not duplicate that sweet taste of my childhood from the contents of a freezer box of waffles despite the convenience and easy clean up. What I needed was a recipe for mornings free of distraction and spent leisurely at the center island over a plate of Gruyere and Rosemary scones.
So it has become break-not-so-fast in my house. There is something about the intense smell of fresh baking pastry, or maybe it's the steamy heat as the oven door opens, that causes cell phones to go quiet, Macbooks and Tivos to turn off, kids to gather in the kitchen even in the early morning hour before school. The food scrumptious and wonderful though it may be, is just the excuse I use to cook up a small space from my childhood with a ledge of its own, perching privileges included. A breakfast recipe I learned from my mother in her tiny tiled bathroom.


Multi Grain Scones
We like our scones coarse and textured so this recipe calls for very little use of utensils, hands work best!

1 cup whole wheat flour
2/3 cup all purpose flour
6 tablespoons sugar plus extra for sugar topping
1 tablespoon baking powder
1/2 teaspoon baking soda
1/2 teaspoon salt
1 1/3 cups old fashioned rolled oats
1½ sticks of cold unsalted butter, chopped into small pieces
2/3 cup buttermilk plus extra for brushing
Rosemary and Gruyere, to taste (optional)
Preheat oven to 425°F.
In a large bowl, add all dried ingredients, use very clean hands (take rings off!) and combine.

Cut in butter with hands (use a pastry blender if preferred) until mixture resembles coarse meal. Add buttermilk; stir only to moisten.

At this point, add freshly picked Rosemary, chopped fine, and bits of Gruyere Cheese. Can also substitute the Rosemary and cheese for chocolate chips, dried fruits or any combination of the above.

Still using hands drop the dough onto a greased cooking sheet, roughly shaping scones. Brush tops of scones with buttermilk and sprinkle with sugar if desired. Bake on the middle rack until golden brown, 15 to 18 minutes.
(Roughly adapted from The Gourmet Cookbook, Dried Apricot and Oatmeal Scones, Ruth Reichl, 2004)


Erica W. Jamieson is a freelance writer. She lives with her family in Los Angeles, California.