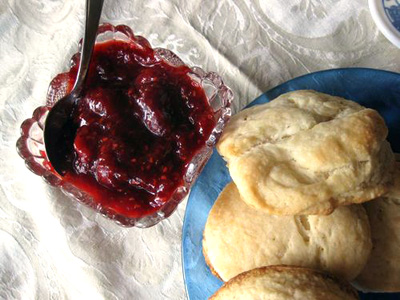 Even more than Thanksgiving, the day after is nostalgia squared, or maybe cubed. Memories rush back from the day before. The turkey. The perfect pies. Seeing loved ones, yet missing absent ones, and being thankful to have both. But now, layered on top, is a day of leftovers that are often better the day before.
My morning after: stuffing in a circle in a skillet with sunny side ups in the center, a piece of pie before that gets under way, freshly made strawberry raspberry jam and angel biscuits.
This year I'm making homemade butter—crunchy maple butter— to serve with them, and I'm sharing the recipe with you ahead of time so you see how quick and easy it is to make. And the flavor is definitely butter squared. Or maybe cubed.
All you need is to pour 3 pints of organic heavy cream in a stand mixer and begin to whip as if you are making whipped cream.
A man in one of my cooking classes asked me, " How do you make butter?!"
I answered, "Do you remember anyone warning you that if you whipped cream too much it would turn into butter?"
That's how easy it is. About 5 minutes or a bit more of whipping. Just remember to watch carefully after the cream begins to stiffen. Within the blink of any eye the cream will collapse to turn into the butter above, but if it is still whipping you'll have the liquid buttermilk below being flung out of your bowl! Stop the mixer as soon as you see the butter formed. Place it in a seive to drain for a minute.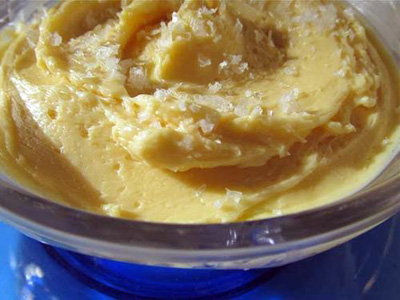 This is the fun part. Adding the maple syrup. I took out 1 cup of the butter to save to use as sweet butter and placed the other 3 cups in my food processor with 10 tablepsoons of maple syrup.
After pulsing, I processed it for about 2 minutes to get this fluffy, delicious whipped maple butter.
In a total of less than 15 minutes, I had homemade maple butter which tasted amazing. I sprinkled Malden salt flakes over the top to add a salty crunch.
I used to have a butter mold and a butter press so that when you level the top of the butter and chill it, when you take it out of the refrigerator you can press down on the top with the press to make a design. I found one online: Ateco Wood Butter Print, Sailboat Design
that I ordered.
This recipe makes 4 cups of butter, so any remaining can be wrapped in plastic wrap and frozen. I'm already thinking about popcorn flavors to make……….or horseradish to top a steak with…or cranberry….Happy morning after, everyone.
Hillary Davis is the author of French Comfort Food, Cuisine Niçoise, and A Million A Minute. She is presently at work on her next cookbook. You can follow her food adventures in France and around the world on her blog Marché Dimanche.