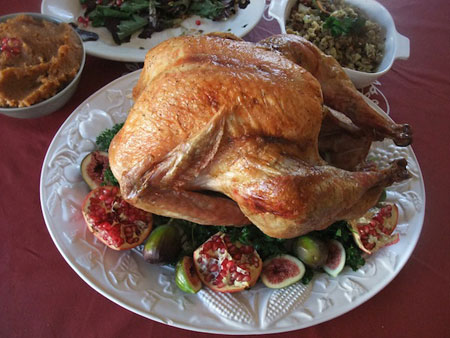 Last month I cooked a Thanksgiving dinner and a Christmas dinner. The only thing missing was a crowd around the table. Why the feast? I was developing recipes for Roast Turkey, Brown Sugar and Mustard Baked Ham, Maple Mashed Sweet Potatoes, Lightened Green Bean Casserole, a Holiday Salad (with pomegranate seeds and pepitas) and Harvest Apple Stuffing. I also created some recipes using leftover ham and turkey and for a few fun things you can make for the holidays to give as gifts like Peppermint Bark and Chocolate Chip Cookies in a Jar. The recipes were for Grocery Outlet and will be featured in a brochure for customers.
Having never hosted my own holiday dinners for 10+ people, I learned a lot! I shopped for as much of the dishes as possible at Grocery Outlet, after doing my planning and creating shopping lists. Of course making lists of what you need to buy is important, but being open to swapping out ingredients if you find something delicious and on sale is a good idea too. I was planning to use dried cranberries in the salad but found pomegranates were a better choice at the time.
When it comes to holiday meals, the main thing is to have an enjoyable time with your family and guests. If that means buying a pie instead of baking one, so be it! Concentrate on putting your energy into the things that matter most to you don't make yourself crazy trying to do everything. Most importantly? Have fun!
So here are my tips for Thanksgiving:
1. Divide and conquer! Holiday meals are more elaborate and involved. No one person should have to do it all. Letting guests or family members take responsibility for a dish or a course gets them more involved and is nice way of sharing.
2. Think big. Contrary to popular belief, many people love leftovers! Especially roast turkey or ham, not to mention stuffing and gravy. Make enough so guests can take some home or so you can make great soups, sandwiches, enchiladas, stuffed crepes and more. You'll be amazed at all the ways you can turn leftovers into fresh meals.
3. Plan ahead. Not only is planning important, but preparing some things like appetizers, side dishes or desserts ahead of time will make the actual holiday much less stressful. Not everything can be prepared ahead, but sometimes even components like salad dressing or pie crust can be made days before you need to use them.
4.Enjoy seasonal flavors. Whether or not you're roasting a turkey or baking a ham, Autumn fruits and vegetables like apples, pomegranates, pears, cranberries, sweet potatoes, brussels sprouts and squash are welcome additions to the holiday table. Even if you serve them in new ways, they will make everyone feel the holiday glow.

5. Start early. Holidays are really about spending time together, not just eating. So plan to get together early in the day. Have appetizers and drinks, socialize before sitting down to the main event.

Wishing you and your family a very happy holiday season!
Amy Sherman is a San Francisco–based writer, recipe developer, restaurant reviewer and all around culinary enthusiast. She blogs for Epicurious , Bay Area Bites and Cooking with Amy .