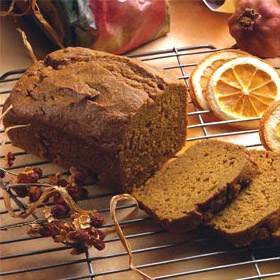 In a recent headline in the "Dining" section of the New York Times, the following question was posed: at Thanksgiving is it all about the turkey or the side dishes?

For me, hands down it has always been about the sides. Never a fan of the tryptophan laden bird, I spend most of fall dreaming of the day in which gorging on cornbread dressing, broccoli casserole (made with Campbell's Cream of Mushroom soup), and sweet potato casserole loaded with pecans and brown sugar is encouraged. But the side dish I love the very most, the one that is made only at this special time of year, is pumpkin bread.

Whether served hot out of the oven with butter while the top is nice and crunchy; or the next day cold with a dollop of cream cheese...homemade pumpkin bread rocks!
Especially the recipe for this tasty treat that has been knocking around my family for years now. It's, by far, the absolute hands down best there is. But enough of the hyperbole, here's the recipe for you to try, guaranteed to make this Thanksgiving a memorable one.

JODIE'S AWESOME PUMPKIN BREAD

Take 3 and 1/3 cups of sifted all purpose flour
Add 3 cups sugar
2 teaspoons baking soda
1½ teaspoons salt
1 teaspoon cinnamon
1 teaspoon nutmeg
4 medium eggs well beaten, adding one at a time
2/3 cup of water
1 cup of Crisco vegetable oil
1 teaspoon vanilla extract
1 cup chopped pecans
1 can of #303 Libby's pure pumpkin (29 ounces)

Mix well (either with a hand mixer or stirring diligently with a spatula for, at least, 100 turns)

Pour equal measures into three 9"x12" loaf pans (* Don't grease pans)

Bake for 1 hour in a preheated oven at 350 degrees. (* Test center to be sure bread is done by piercing with a broom straw. When the straw comes out clean, bread is finished baking.)

Cool on baker's racks for 20 minutes before taking out of pans.

For an extra crunchy top, let stand uncovered at room temperature an additional 20 minutes.

Bread freezes well and in doing so makes for a more dense, solid result. When preparing to serve frozen bread, let stand at room temperature for two hours before serving.

Happy eating and Happy Thanksgiving!