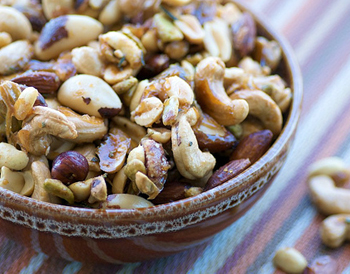 Ever since Jeff and I moved to Southern California seven years ago, my parents have flown from Rhode Island to celebrate Thanksgiving with us.

Each year about a week before they leave, Mom calls and asks,"Do you want us to bring anything? Bread from Buono's? What about some soppressata from Venda's?" After taking down our requests, she invariably asks me one question: "Is Jeff going to make those rosemary nuts this year?"

I make the turkey, the stuffing, the cranberry relish, the vegetables and all the desserts. But what do my parents want to know? If Jeff is making the rosemary nuts.

These Sweet and Spicy Rosemary Nuts have become such an integral part of our celebration that none of us can imagine Thanksgiving Day without them. Jeff makes them early in the morning, enticing us with the aromas of earthy rosemary and sweet honey. We traditionally serve them with drinks before dinner. When there's about half a bowl left, we take turns, saying, "Put them away. I've had enough."
Then as the day goes on, each of us dips our hand into the bowl for another mouthful. Somehow, unbelievably, we think the other three don't notice. Then when we sit down to dinner, my mom looks at all the food on the table and says, "Oh, I'm so full. I ate too many of those rosemary nuts. Next year I'm not going to do it."

Then the next year she does. And we all follow suit.

Sweet and Spicy Rosemary Nuts
Serves 10-12

These rosemary nuts are sweet, spicy and salty, everything a snack food should be. They're quite versatile when it comes to drink pairings, though they taste extra sweet with a dirty martini and extra spicy with a full-bodied, malty beer.

6 cups unsalted mixed nuts, such as almonds, Brazil nuts, cashews, hazelnuts, peanuts, pecans, and pistachios
1/3 cup honey
1/3 cup light brown sugar
3/4 teaspoons cayenne pepper
2 teaspoons sea salt
4 teaspoons chopped fresh rosemary, divided

1. Preheat oven to 325 degrees. Coat a large rimmed baking sheet with cooking spray.
Place nuts in a large mixing bowl.

2. In a small pan over medium-high heat, add honey, brown sugar, cayenne, salt and 3 teaspoons rosemary. Heat until the sugar dissolves and the sauce is syrupy. Pour over the nuts and toss until evenly coated. Transfer to the prepared baking sheet. Bake for 15-20 minutes, turning once, or until nuts are golden brown. Keep an eye on them so they don't burn! Remove from oven and sprinkle remaining 1 teaspoon rosemary over nuts. Cool. Break into small clusters. Store in an air-tight container for up to one week. Though they'll never last that long.