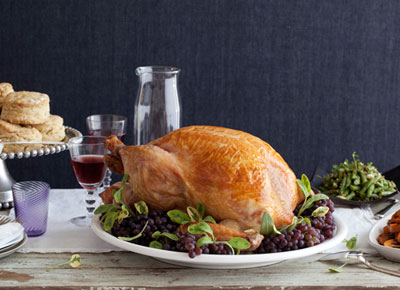 You certainly don't need me to tell you that the Big Food Holiday is next week. Everywhere you turn you see tips, tricks and ideas for Thanksgiving so you'll understand me when I say that I'm going to join the chorus!
What are your plans? I'm giddy just thinking about our week: my parents fly in Monday, my sister joins us Tuesday, and we'll all be celebrating a giant Thanksgiving meal here at our home. Adam will do the bird, I'll be in charge of music, decor and the hosting duties, while we'll be joined with our friends, neighbors and extended family.
We will toast a guest's birthday, share what we're thankful for, and wish my parents a 50th wedding anniversary all at the same time! While the exact anniversary isn't until the end of December, I'd be a fool to not take the time to wish my loving folks the best of celebrations a bit early. When you make it to 50 Years you almost deserve to have those around you toast you many times over!
It's a crazy time for all of us, remember to take a few moments for yourself but — MOST IMPORTANTLY — give thanks and lots of love to those in your lives. Tell them what they mean to you, even if they look at you crazy and tell you to stop. Trust me on this one: we all need to know how important we are to each other, it's what makes this crazy life worth living. So do it. For me at least. And remember this: I am thankful for you and I love you. Each of you. I do. I really do.
Maple-Roasted Turkey with Sage, Smoked Bacon, and Cornbread Stuffing
This recipe is from Tyler Florence and hits all the right spots. C'mon, maple AND bacon ON a turkey? Yes please. The recipe is here.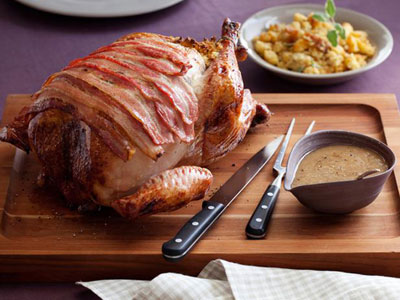 Bay and Lemon Brined Turkey
I get rather obsessed with a lemon+poultry combo. Then again I get rather excited about lemon + anything combo. You cannot go wrong. This recipe from Dave Lieberman can be found here.