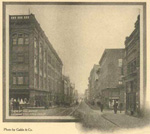 My grandfather and several of my great uncles had a fur store in N.Y. It was called Windsor Furs (to indicate, one can only guess, a regal presence previously unknown to 14th Street and 7th Avenue). Uncle Simon and Uncle Harry kept Windsor Furs well into their 90's. And I would like to tell you all the funny, memorable stories I know about them and the shop. But the thing that springs to mind at this moment is their business card.
"Windsor Furs
Shop Here! Soon you will know the reason why."
I loved it. It was succinct. Filled the reader with expectation. And had a confidence so total that no other words were necessary.

I tell you this because of the stuffing recipe I found last November from Bruce Aidells, the founder of the eponymous sausage company.

At first glance, it seemed a little Santa Fe for my taste. But it looked really good. Still, I didn't want to risk making something I'd never made before; we were having 18 people for Thanksgiving. What if it was only good on paper? So I decided to make two: my tried and true bread stuffing and this newbie.

Everyone sat down at the table. Within 20 minutes, the new stuffing was gone. I mean gone, baby. Gone. I can only put it to you this way:

Make this!
Soon you will know the reason why.


ANDOUILLE SAUSAGE AND CORN BREAD STUFFING

2 tablespoons butter
1-pound Andouille Sausage (pork, chicken, or turkey) cut into 1/2 inch pieces
1 12-ounce package bulk sausage (preferably breakfast, and preferably without fennel)
3 cups chopped onions
2 cups chopped celery
2 cups chopped red bell peppers
1 cup chopped green onions
2 teaspoons chopped fresh thyme
1 teaspoon hot pepper sauce (like Louisiana hot sauce), or to taste
1 teaspoon dried sage, rubbed between your fingers
1 homemade cornbread made a day in advance (recipe follows) or, if you must, 1 12-ounce bag of dry corn bread stuffing mix

1½ cups canned low salt chicken broth

Melt butter in large skillet over medium high heat. Add all the sausages and cook until they're brown and cooked through, breaking up the meat with the back of a fork. Add onions, celery, and bell peppers. Cover and cook until vegetables are tender, stirring occasionally, about 10 – 15 minutes. Add green onions, thyme, hot pepper sauce and sage. Transfer mixture to a large bowl. (NOTE: This can be prepared 1 day ahead. Cover and refrigerate. But be sure to bring to room temperature before continuing.)

Add cornbread to sausage mixture. (If you've baked your own, weigh 12 – 16 ounces of it. I know it sounds compulsive but it's worth it: whatever is left over, you can eat. ) Cut into small cubes or crumble, either way is fine, before adding to sausage.) Add salt and pepper to taste.

Butter a 13X 9 Pyrex dish, a gratin dish or baking pan. Add 3/4-1 1/2 cups of chicken stock to the stuffing, just enough to moisten. Cover the stuffing with a buttered piece of tin foil, buttered side down and bake until heated through, 30 minutes. Uncover and bake until top is golden, about 20 minutes more.

Makes 10 – 12 servings.

Adapted from Bruce Aidells


THE BEST BUTTERY CORN BREAD

Heat oven to 400° F. Butter a 9X5X3 inch loaf pan.

1½ cups yellow cornmeal
1 tablespoon baking powder
1 cup flour, sifted
1/3 cup sugar
1 teaspoon salt
1½ cups milk
2 eggs, lightly beaten
3/4 cup butter, melted and cooled

In a bowl, combine cornmeal, sugar, flour, baking powder and salt. In a separate bowl, mix milk, eggs, and cooled butter. Stir liquids into dry ingredients. Do not overmix.

Pour batter into greased loaf pan. Bake until golden on top, 35 – 40 minutes. Remove from oven and cool in pan on a wire rack for 5 minutes. Then remove from pan and allow to cool completely on rack.

Makes one loaf

Adapted from Martha Stewart

Katherine Reback was born and raised in Connecticut.