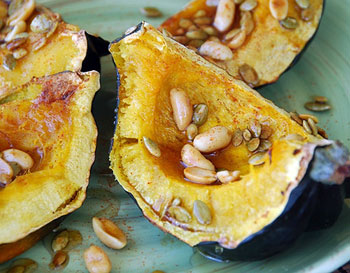 American Thanksgiving. It's all about the big bird. Or is it?
Every year it's the same thing: Cooks everywhere spend countless hours debating the merits of free-range, organic, grass fed, wild, and frozen turkeys. Then when they finally decide on a turkey, they spend even more hours debating how to cook it: Will brining make the meat succulent? Should it be basted every hour? And what about the stuffing? Every family has that relative who insists on stuffing the turkey. So should you stuff the turkey and risk salmonella poisoning for your guests or incur your Aunt Edna's wrath? These are not easy questions.
That is why my favorite part of Thanksgiving has always been the side dishes. You know them – the perennial favorites such as cranberry sauce, sweet potatoes, winter squash, string beans, and Brussels sprouts. Probably like most of you who celebrate Thanksgiving, I expect these dishes to grace the Thanksgiving table every year, but sometimes they need a little spicing up.
Rather than traditional butter, brown sugar, and cinnamon, this acorn squash has some Latin flare. A tangy, spicy lime and honey glaze contrasts deliciously with naturally sweet acorn squash, while peanuts and pepitas add earthiness and crunch. This sauce also works wonderfully on butternut squash and sweet potatoes.
As for all those questions regarding turkeys, just call one of the dozen or so turkey hotlines that are there to help you with your bird. But really, how much turkey talk can one take?
Roasted Acorn Squash with Honey-Lime Glazed Pepitas
Makes 8 servings
2 acorn squash, seeds removed, and cut into 8 equal wedges
2-3 teaspoons olive oil for brushing squash
1/4 cup unsalted peanuts
1/4 cup unsalted pepitas**
juice of 1/2 lime
1/4 teaspoon lime zest
3 tablespoons quality honey
1 tablespoon water
1/4 teaspoon cider vinegar
1/4 teaspoon cayenne pepper
1/4 teaspoon ground cumin
salt, to taste
Preheat oven to 400 degrees F. Line a baking pan with tinfoil (for easy clean up). Brush the flesh of the squash with olive oil and roast flesh side down for 40-45 minutes, or until tender.
In a small skillet over medium heat, add peanuts and pepitas. Heat until golden brown and they begin to pop. Remove from heat.
In a small bowl, combine lime juice, lime zest, honey, water, vinegar, cayenne pepper, cumin, and salt. Whisk until smooth. Just before you're ready to serve the squash, add the sauce to the pan of toasted peanuts and pepitas. Heat on medium until the sauce begins to bubble and becomes syrupy, about 2 minutes. Remove from heat and drizzle over the cooked squash. Serve immediately.
**Pepitas is the Spanish name for pumpkin seeds and are used often if Mexican food. They're available at Mexican markets, specialty markets such as Whole Foods, and many supermarkets. Pumpkin or sunflower seeds make good substitutes.
Susan Russo is a free lance food writer in San Diego, California. She publishes stories, recipes, and photos on her cooking blog, <Food Blogga and is a regular contributor to NPR's <Kitchen Window. She is also the author of two upcoming books that will be published in the fall of 2010.