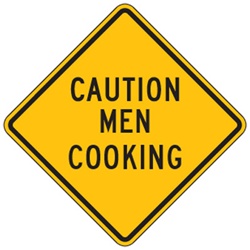 It's been our Thanksgiving tradition for twenty years. The men do the cooking. The women get the day off.

I am not a cook. I am a chopstick in a world of forks. I look at my hands and see ten thumbs. And most of the other guys have culinary skills no better than mine. In fact, one guy thought the TV on the kitchen counter was a microwave and tried to put his dish in it.

Yet, somehow, each year, the meal turns out spectacular.

The tradition began in 1987 when breakups and other untimely events left four of us with no choice but to make Thanksgiving dinner ourselves.

The result could only be described as a miracle. When the Red Sea parts, you don't ask how. You just keep walking. And when we got to the other side, we decided to tempt fate and do it again.

When friends heard about our plans for a sequel, they had a knee-jerk reaction usually reserved for lemmings. They wanted in. That's when the original four chefs, "the founding fathers", as we're now known, came up with a set of rules.

1. Every male, regardless of age, must make a dish. (The ages have ranged from 8 to 85.)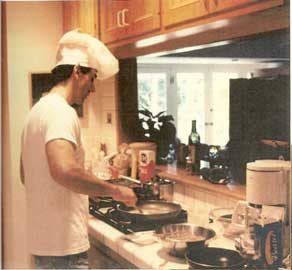 2. All dishes must be made from scratch.

3. No dishes can be brought from home. (This eliminates the possibility of anyone pulling a Milli Vanilli and taking credit for something they didn't do.)

4. No soup.

5. No help from the women.

In the early years, when the group was still relatively small, each chef would declare his dish in advance. That way, we could make sure that we had all the holiday staples covered and would avoid winding up with, say, one turkey and five pies.

The popularity of the tradition caught on, and, before long, we had the kind of turnout that could affect a national election. About half were chefs. And we were working in a very small kitchen.

We needed a lot more space. Additional ovens were rented. The dining area was moved outside under a tent.

Declaring our dishes is no longer necessary. No matter what anyone makes, we have too much of everything. Ten sides. Ten desserts.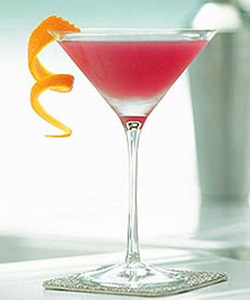 The women arrive beautifully dressed, tossing back cocktails in their Vera Wangs and Jimmy Choos. The guys show up looking like we're there to paint the house.

We enter carrying grocery bags filled with ingredients for our dishes and head straight for the kitchen. We battle for table space, mixing bowls, stovetop burners and oven space, which explains why one chef was once seen running across the street to the neighbor's house to find room for his ratatouille.

Over the years, turkeys have been roasted, smoked, grilled, barbecued, and fried in peanut oil. A live turkey was flown in and not pardoned. A pig was prepared on a spit, served with an apple in its mouth and garnished with sunglasses. We've had duck, turducken, ham, venison, and there's been talk of bear.

After dinner, the founding fathers and all previous master chefs caucus in the back room to determine who will be the following year's master chef – a title that has been passed on to the next generation.

This year, the house is being remodeled, so the tradition is on hiatus. After twenty years, we're right back where we started. With nowhere to go for Thanksgiving.

So if you should happen to see a brigade of motley chefs wandering aimlessly through your neighborhood this Thursday, fear not. And please invite us in. But just make sure you don't have a TV on the kitchen counter. We'd hate to confuse it for a microwave.

The last time I was master chef, I made the fried turkey. If you want to try it, it's great. Just be sure to set up the turkey rig outside the house.

EMERIL'S FRIED TURKEY

Recipe from Every Day Is A Party, by Emeril Lagasse, with Marcelle Bienvenu and Felicia Willett, published by William Morrow, 1999

**You will need a turkey rig to fry the turkeys and syringes to inject them.

For the Marinade:
2 tablespoons Worcestershire sauce
1 tablespoon liquid Zatarian's Concentrated Crab and Shrimp Boil (optional)
¼ cup apple cider
¾ cup honey
1 (12-ounce) bottle beer
1 tablespoon salt
1 tablespoon ground allspice
½ cup Creole Seasoning
¼ teaspoon cayenne
Pinch ground cloves

For the Seasoning Mix:
1 cup salt
1 tablespoon cayenne
1 tablespoon freshly ground black pepper

To Fry:
2 turkeys (8 to 10 pounds each)
About 10 gallons peanut oil

To make the marinade:
Combine all of the ingredients in a food processor or blender and process for about 5 minutes. Fill a syringe and inject each turkey in the breast and thigh area, as well as the back, wings, and legs. You will have to fill the syringe several times.

Next, combine the seasoning ingredients and rub the mixture evenly all over each turkey.

Place the turkeys in large plastic bags and secure before icing them down or refrigerating them for 24 hours.

To fry each turkey:
Fill a large pot three quarters full with the peanut oil and heat the oil to between 350-360° F.

Place 1 turkey in the basket insert and carefully and slowly lower it into the hot oil.

Turn the turkey every 10 minutes, using long-handled forks. A whole turkey will take 3-5 minutes per pound to cook. It is done when the internal temperature reaches 170-180° F. on an instant read meat thermometer.

Carefully lift the basket out of the hot oil. This can be done by inserting a broomstick through the handles and having two strong people lift the basket out of the pot. Using the long-handled forks, transfer the turkey to a large brown paper bag and let stand for about 15 minutes before removing to carve. Repeat the procedure for the second turkey.
Robert Keats is a screenwriter and humorist. He is currently developing a television series for Penny Marshall.