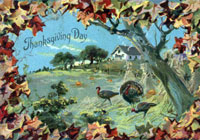 When I decided to move across the country, my parents believed that I would quickly get over my folly of living in the Golden State and return to life in New England. Unfortunately for them, California felt like home the minute I crossed the border and I haven't looked back since. The only time I regret being so far away is at Thanksgiving.
It's all about the food and a fairly simple concept of sharing one's bounty. A day to give thanks for the good things in your life. Everyone eats too much, drinks too much, maybe says things they shouldn't, but in the end it's a holiday of inclusion. Even when I was single, I've never had to celebrate Turkey Day alone. Unlike Christmas, with its unwavering traditions, which usually include immediate family only, on Thanksgiving I've found it's "the more the merrier."
After 20 years, my parents still hope that I will return for a Thanksgiving. That they could travel here, never occurs to them. They know we're not coming, but that doesn't stop them from complaining about it. It's just too expensive and difficult. Every year travel horror stories on the news prove that it's not worth the trouble just to share turkey and cranberry sauce.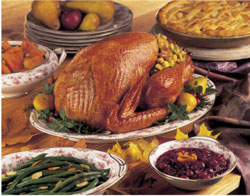 Over the years, my family has come to indulge us with a Thanksgiving dinner on our early Fall sojourns East. Believe me, it tastes just as good in late October. They pull out all the stops and never fail to include the one item I still sorely miss – my mother's meat stuffing. How people prepare their array of Thanksgiving dishes is generally of no consequence to me.
I'll eat potatoes any way they come, cranberries fresh or sliced out of a can and any green vegetable – now including Brussels Sprouts – that are passed around the table. Holiday orphans can't be picky and lucky for us, all our friends know how to prepare a spread. Yet, no matter how lovely the meal, there's always a hole on my plate where that stuffing used to be. The recipe came down through the French Canadian side of my family and thought their are several versions, I think my mother's is the best and I can never resist seconds.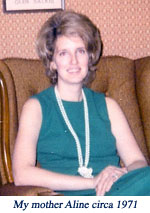 My mother took over cooking Thanksgiving dinner from her in-laws in the late 1960s. Her own mother had neither the physical space nor culinary inclination to organize such an event. So, once my parents finally had their own house, which they then quickly filled with four children, it seemed easier for all my grandparents, and a stray great aunt or two, to travel to us. (My grandpa Frank's first heart attack on Thanksgiving Day in 1966 – thankfully just as my parents were arriving and could help – sealed the deal.) My grandmother Helen was only too happy to switch venues and take over the dessert-making, which was her forté, making the holiday much less stressful for her and my grandfather. I can still taste her blueberry cheesecake and apple pie and wish I had the recipes...and her talent for baking.

Now with my grandparents gone and my siblings scattered, we've each had to make new traditions. The one hold out to the past, we all still love, is that stuffing recipe. I made sure to get it so I could prepare it for myself, but, in the end, I've only made it a few times over the years. It's too impractical. The recipe feeds a crowd and with just the two of us, it's hard to justify the time and expense. Since I've never encountered this version on the West Coast, I'm too nervous to bring it to someone else's celebration where it will inevitably pale against their family's stuffing, which they, of course, can't live without. The good news is my mother is more than happy to make it whenever we venture back, so I still get to indulge my palate in holiday morsels gone by. Lucky for me, it's always as good as I remember.


Mom's Meat Stuffing
If you're part of a meat-loving clan, then this stuffing will hit the spot. It is made as a side dish, not to stuff the turkey. It can be made the day ahead and simply reheated over a low flame until warmed through. If too sticky add some additional broth. Personally, I always thought it was better the second day because the flavors have more time to combine.

1 large onion, finely diced (can pulse in food processor if you're lazy like me)
2 stalks celery, finely diced (can pulse in food processor, same as above)
1 lb. ground beef
1/2 lb. ground pork
1/2 lb. ground veal (or use 1 lb. ground pork)
Up to 1 tablespoon Poultry seasoning, or more to taste
2 cups prepared beef stock OR 2 beef buillion cubes dissolved in 2 cups boiling water
1- 8oz. bag of Pepperidge Farm Herb-Seasoned stuffing, the one with the small pieces not the cubed kind
3 tablespoons butter
Salt and ground black pepper to taste


With clean hands, mix the meats together in a large bowl until thoroughly combined.

Melt butter in large Dutch Oven over medium heat. Add onion and celery. Saute until the vegetables begin to soften 4-5 minutes. Add the meat and beef stock, just enough to cover the meat. Cover pot and simmer on low for about 1/2 hour to an hour. Be sure to stir often, so the the meat does not stick to the pan or burn.
Once it reaches a nice uniform brown color turn off the heat and add the poultry seasoning and stuffing mix until the liquid is absorbed. You don't want the mixture to be too soupy, too dry or too bready so take care not to add too much stock in the beginning. Cook for an additional 10-15 minutes to allow the flavors to come together and any extra liquid to be absorbed.

Salt and pepper to taste just before serving. Place in a large warmed bowl and serve. Much, much, much better the next day. Like night and day. Just make this one ahead. Less work on the big day and worth the time spent. Just reheat on low in a crock pot or dutch oven until warm throughout. Add additonal water or broth to loosen, if necessary.
Lisa Dinsmore is an writer, web programmer, movie and wine lover. She currently runs two review websites to share her passions: www.crazy4cinema.com and www.dailywinedispatch.com.