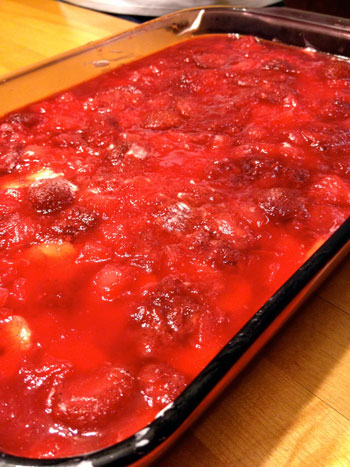 Every family has their traditions. The things that make the holidays particularly memorable to them. When it comes to Thanksgiving those traditions almost always revolve around food. What graces the table is just as important as who sits around it. While some people may choose to experiment from year to year some things just aren't allowed to change. Usually it's a side dish. Sometime it's not very healthy or even classy, but it must be made.
In the case of my family it's Jell-O Salad. It has graced our holiday table for as long as I can remember. I have tried to trace the origin as it is distinctly American and probably a recipe that came from the company itself. It certainly is not something my very Polish grandmother would have created on her own. She was an expert baker and this is just too pedestrian for her talents. The closest version I came to finding online had it published in 2000. That's about 30 years too late. That version also included walnuts, which just sounds gross. They would totally mess up the the smooth, melt-in-your-mouth texture of the dish.
I can only imagine she started making it to placate the unrefined palates of her four young grandchildren. I mean, who would ever pass up Strawberry Jell-O with bananas. It seemed more like a dessert than a side dish and added a little sweetness and color to our plates. Even when we were older we had her continue to make it, because it just wasn't the holidays without it.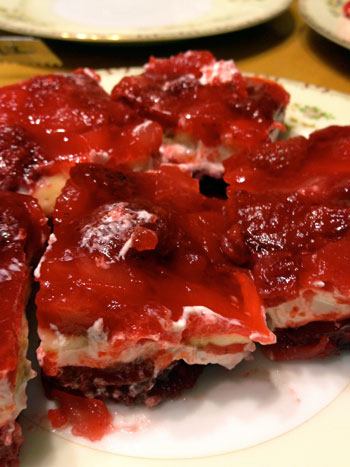 Because it's so sweet, I always thought it was made with cream cheese in the middle, but I was wrong, thank God. I was shocked when my mother, who continued the tradition when my grandmother passéd, told me the layer was actually sour cream (with vanilla and sugar added), which I hated as a child. Now that I cook, It makes perfect sense, as it's easier to spread over the jello and helps cut the sweetness of the dish.
As traditions have a way of sticking around, It's also something she's forced to make now because my nieces and nephews have fallen for it, too. They even fight over who gets to help make it because as we all know…everyone loves Jell-O. Plus it's so easy to make even young children can get involved and feel like they contributed to the holiday meal.
This recipe is so retro it might be back in style. If I was a hipster I would make it and serve it ironically…but in the end it's delightful in it's simpleness and might just get your kids to eat something a bit more healthy on the holiday. It's not the prettiest or easiest thing to get out of the pan and onto a plate, but man does it bring back memories…
Strawberry-Banana Jell-O Salad
1 package (6 ounces) strawberry gelatin
1 cup boiling water
2 packages (10 ounces each) frozen sweetened sliced strawberries, partially thawed
1 can (20 ounces) crushed pineapple, slightly drained
3 medium bananas, sliced into 1/4" rounds
2 cups (16 ounces) sour cream
2 teaspoons sugar
1/2 teaspoon vanilla extract
1. In a large bowl, dissolve gelatin in water. Stir in strawberries and pineapple. Pour half of the mixture into a 13-in. x 9-in. dish. Refrigerate for 1 hour or until set.
2. Set the remaining gelatin mixture aside. Combine the sour cream, sugar and vanilla. Spread evenly over the chilled gelatin. Be gentle.
3. Place banana slices evenly in single layer over the sour cream.
4. Pour remaining gelatin mixture over top and smooth out so it covers the sour cream/banana layer evenly. Chill overnight.
5. When ready to serve cut into squares and plate.
Yield: 12-15 servings.