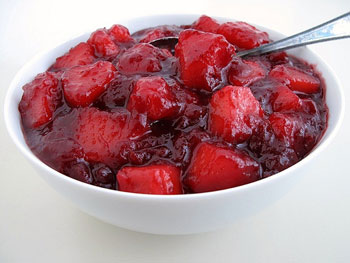 No Thanksgiving dinner table is complete without cranberry sauce. Cranberries and turkeys are both native to North America, so it's fitting that they have come to represent the holidays not to mention the wonderful pairing they make. Many of us have become accustomed to the cranberry sauce that slides out of a can. But it's really not that elegant. Cranberry sauce, compote, or chutney made from scratch is so much more special. For many years now I've been making one or the other. When guests who have only ever eaten canned sauce try my compote, they swear never to back to canned again. Fresh cranberries can be found everywhere in supermarkets this time of year. Combine them with other fruits and spices to create a very flavored sauce that everyone is sure to enjoy.

Cranberry compote can be made with a variety of fresh or dried fruits, which help to balance the tart flavor of the cranberries. I've tried all combinations: apples, pears, grapes, dates, and raisins. But the most unique combination I've created is with quince, a pear-like fruit originating from Asia. Like a cross between an apple and a pear with a light yellow-green skin, the quince is an immensely fragrant and flavorful fruit. Mostly quinces are a bit too astringent to eat raw and instead are used in cooking, baking, and jam-making. Quince can be found individually packaged in supermarkets during the fall and winter seasons. They are definitely worth picking up for this fall-fruit compote.

To prevent browning once cut, the quince, as with apples and pears, should be tossed in lemon or orange juice. For additional flavor, this recipe uses white wine and pomegranate molasses. If preferred, water can be substituted for the wine. Pomegranate syrup, such as grenadine, works well in place of the molasses. Or pomegranate juice can be added in the beginning instead of the wine or water. The compote can be made days in advance and will last for a week or two in the refrigerator.

Cranberry-Quince Compote

3 cups fresh cranberries
1 cup granulated sugar
1/2 cup dry white wine
2 large quinces
1/2 cup fresh orange juice (about 1 orange)
1 tablespoon lemon zest (about 1 lemon)
1/4 cup pomegranate molasses
1/2 teaspoon ground cinnamon
1/4 teaspoon grated nutmeg

Combine cranberries, sugar, and wine a saucepan set over medium-low heat. Cook until cranberries pop and mixture is syrupy, about 8 minutes.

Meanwhile, peel, core, and cut quince into cubes. Toss with orange juice and lemon zest.

Add quince mixture, pomegranate molasses, cinnamon, and nutmeg to pan. Increase heat to medium-high and cook until quinces are tender, about 10 minutes. Let cool completely. Serve at room temperature or chilled.
Yield: 8 to 10 servings.
Joseph Erdos is a New York–based writer and editor, but above all a gastronomer and oenophile. He shares his passion for food on his blog, Gastronomer's Guide , which features unique recipes and restaurant reviews among many other musings on the all-encompassing topic of food.