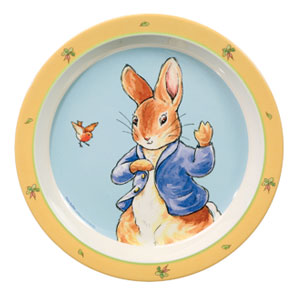 There are ten of us for dinner this year, ranging in age from 2 ½ to 91. My granddaughter, who is clearly her mother's daughter in terms of her young culinary interests, feasts solely on (in this order) pumpkin pie and cranberries. At least two other guests besides the two pescatarians opt for salmon. Five traditionalists dine on turkey and sweet potatoes. Everyone except the two-year-old has several helpings of green bean casserole, that holdover from the fifties that is about as healthy as—but even more delicious than—Twinkies. I have a large and lovely glass of the wine selected by my daughter-in-law and contemplate the table.
The plates are Fiesta, in shades—in homage to the season—of yellow, orange, and green, to mirror the last leaves on the maple tree outside the window. I have been careful, however, to make sure that my mother's setting is pink. My granddaughter has a plate that features Beatrix Potter's Peter Rabbit. She doesn't believe me when I tell her that it used to be her Uncle Ted's favorite plate. The water glasses—an anniversary gift—are from Spain; the wine glasses are from a set my husband and I bought for a housewarming party for our first home.
Later, tea and coffee will be served in the bone china teacups that my husband's Great Aunt Bess collected. The gravy boat, with a spout at either end and an attached saucer, came from the home of my husband's Grandmother Sarah. The sectioned glass relish tray is the one that my mother's mother used on special occasions.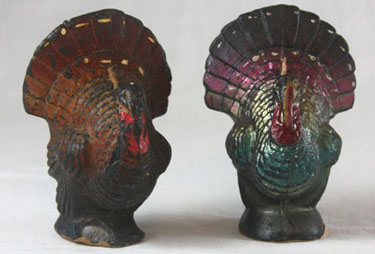 Perched next to the vase (found in an antique store on a Cape Cod visit with my mother-in-law) in the center of the table is a small turkey candle from the 1950s; if you turn the candle upside down, you'll find its price—15 cents. It's one half of a set; my sister has the other one. Long ago, there were two wax Pilgrims as well (my sister and I melted those down one year in a post-Thanksgiving-dinner experiment).
The largest serving bowl is from our set of wedding dishes. We didn't want fine china—we chose stoneware instead, with a painted daisy—like a secret or a surprise—at the bottom of each bowl. The plate that holds the pumpkin pie made by my mother for this meal belonged to my father's mother: Art Deco chrome, its wide rim decorated with an ivory-colored Bakelite ornament of two apples. (Why not plums? The official name of the plate is "Jack Horner.")
It's a minor but pleasing mystery, soon lost among the other conversations and memories that swirl about the Thanksgiving table. And in a few weeks, the pie plate will sit on the glass coffee table in the living room, filled with white candles and a garland of tiny silver stars.
Carolyn Foster Segal is an essayist and a teacher of creative writing at Muhlenberg College in Allentown, PA.