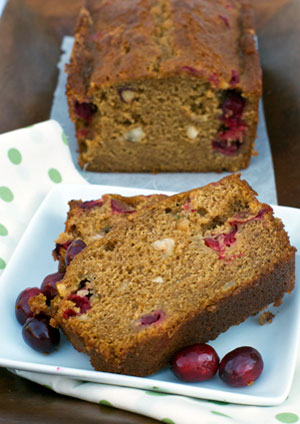 Adapted from The New Joy of Cooking
1 9″ loaf
Ingredients:
1 1/2 cups unbleached flour
1 1/2 teaspoons cinnamon
1 teaspoon baking soda
1 teaspoon ground ginger
1 teaspoon table salt
1/2 teaspoon nutmeg
1/4 teaspoon ground cloves
1 1/4 teaspoon baking powder
1/3 cup water
1/2 teaspoon vanilla
6 tablespoons unsalted butter, room temperature
1 1/3 cup succanat
2 large eggs, room temperature
1 cup pumpkin puree, room temperature
1/2 cup chopped hazelnuts, toasted
1/2 cup fresh cranberries
Instructions:
Preheat oven to 350°F. Butter a 9 x 5″ loaf pan (I used an 8 x 4″ loaf pan and two small paper loaf pans). Whisk together flour, cinnamon, baking soda, ginger, nutmeg, cloves, baking powder. Set aside.
In another bowl, mix the water and the vanilla. In the bowl of an electric mixer, beat the butter until creamy. Beat in the sugar until combined and just blended. Add the eggs, one at a time. Add the pumpkin puree and beat on low speed until blended. Add the flour mixture in three parts, alternating with the water/vanilla mixture in the two parts. Scrape down the sides of the bowl and then fold in the hazelnuts and the cranberries. Pour batter into the prepared pans.
Bake the 8″ loaf for about 50 minutes or until a toothpick comes out clean from the center. Bake the mini loaves for about 22-28 minutes. Let cool on rack for about 15 minutes. Turn the loaves out onto the wire rack and let cool completely.
I actually made several of these and froze them, individually. Next week I have a breakfast meeting to go to and I plan on taking one of these out of the freezer the night before and reheating, slightly the following morning. This beats dunkin doughnuts any day of the week!
- Recipe courtesy of Susan Salzman