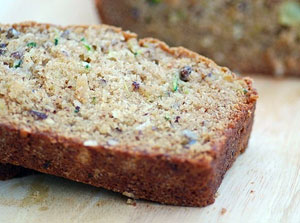 Makes 2 (9 X 5) loaves
My mom's zucchini bread is chock full of zucchini, coconut, pecans, and pineapple. It's like an old-fashioned zucchini bread married a pineapple upside-down cake. Don't be surprised if you find your family fighting over the last slice.

3 cups all-purpose flour
1 teaspoon salt
1 teaspoon baking soda
1 teaspoon baking powder
1 tablespoon cinnamon
3 large eggs
2 cups sugar
1 cup canola oil
3 teaspoons pure vanilla extract
1 cup chopped nuts, preferably walnuts or pecans
2 cups shredded zucchini, with the skins
1 cup crushed pineapple, drained
3/4 cup shredded sweetened coconut

1. Place oven rack in center of oven, and preheat to 350 degrees F. Coat 2 (9 X 5) loaf pans with cooking spray.

2. In a large bowl combine flour, salt, baking soda, baking powder, and cinnamon.
3. In a medium bowl beat eggs and sugar with an electric mixer. Add oil and vanilla, and beat until combined. Add the wet ingredients to the dry, and stir by hand. Fold in nuts, zucchini, pineapple, and coconut.
4. Divide batter evenly between two pans. Bake for 50-60 minutes, or until a cake tester inserted in the middle comes out clean. Cool for 10 minutes. Remove from pans and place on a wire rack.
- Recipe courtesy of Susan Russo