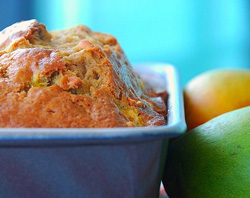 Serves 8-10

3 large eggs
3/4 cup canola oil
2 1/2 cups all-purpose flour
1 cup sugar
1/2 cup light brown sugar
1 teaspoon baking powder
1 teaspoon baking soda
1 teaspoon ground cinnamon
1/2 teaspoon nutmeg
1/4 teaspoon salt
2 teaspoons grated fresh ginger
2 cups diced fresh mango
3/4 cup moist, plump mixed raisins, coarsely chopped
3/4 cup cashews, coarsely chopped
grated zest of 1 lime

Center a rack in the oven and preheat to 350 degrees F. Spray an 8 1/2- x- 4 1/2- inch loaf pan with cooking spray. Place the pan on two regular baking sheets stacked one on top of the other to prevent the bottom of the bread from over baking.

In a small bowl, whisk together the eggs and oil.

In a large bowl, whisk together the flour, sugars, baking powder, baking soda, cinnamon, nutmeg, and salt. Pour the wet ingredients over the dry, and using a spatula, mix until well blended. The dough will be very thick, but as Dorie says, "persevere, it will come together." Stir in the ginger, mango, raisins, cashews, and lime zest. Scrape the batter into the pan, and smooth the top with a rubber spatula.

Bake the bread for 1 hour 15 min. to 1 hour 30 min., or until the top is golden brown and a cake tester or thin knife inserted into the center comes out clean. (If the bread is getting too brown on top, cover it loosely with a tinfoil tent). Transfer the pan to a rack and cool for 5 minutes before running a knife around the sides of the pan and unmolding. Invert and cool to room temperature right side up on the rack.
- Originally published on Susan Russo's site FoodBlogga.