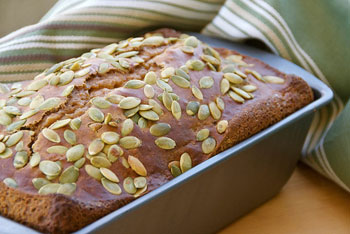 The spicy, smoky chopped chipotle chilis are tempered with honey, giving this bread a pleasing mixture of heat and sweetness.
1 1/2 cups whole wheat flour
1 1/2 cups all-purpose flour or white whole wheat flour
1 tablespoon baking soda
1 teaspoon salt
2 teaspoons ground cinnamon
3/4 cup honey
4 large eggs
1 cup low-fat plain yogurt, strained
1/4 cup canola oil
2 small very ripe bananas (about 1 cup)
3 chipotle chilis in adobo sauce, chopped*
2 tablespoons unsalted pepitas*
1. Position a rack in the center of the oven and preheat to 350 degrees F. Coat 1 (8 1/2 X 4 1/2 -inch) loaf pan with cooking spray.
2. In a medium size bowl, whisk the flours, baking soda, salt and cinnamon.
3. In a large bowl, beat honey and eggs with an electric hand mixer. Add yogurt and oil; beat until batter is smooth. Lower the speed; add the bananas and chipotle chilis and beat briefly (it's ok if the batter has a few lumps).
4. Add the flour mixture to the egg mixture and mix until just incorporated. Pour the batter into the pan. Sprinkle with pepitas. Bake for 60-75 minutes, or until the top is a deep golden brown and a cake tester inserted into the middle comes out clean. Check the bread about halfway through. If you feel like the top is getting too brown, then tent the pan with a piece of aluminum foil and continue baking. You can also place the pan on two stacked baking sheets in the center of the oven to prevent the bottom of the bread from getting too browned.
5. Transfer the bread to a rack; let cool for 10 minutes, then unmold and place on a rack to cool to room temperature.
*Shopping Note: Canned chipotles in adobo sauce can be found in Mexican speciality markets as well as the Mexican food section of most major supermarkets. Pepitas are Spanish pumpkin seeds that can be found in Mexican speciality markets and speciality foods markets.
- Recipe courtesy of Susan Russo