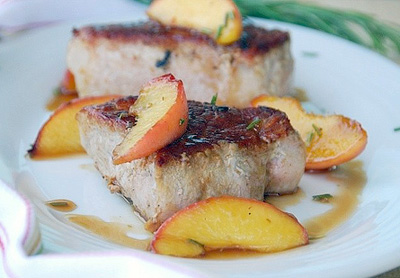 I have always associated peaches with July and August. That is until a few years ago when I discovered the most succulent peaches I ever tasted -- in September.
Peach season in California is long and abundant; it runs from May to October and peaks from July through September. In general, peaches are picked early to withstand shipping and to have a longer shelf life. The problem is when you take home many of these peaches, they are as hard as a rock (and taste like one too). That's why buying locally grown peaches is a better option when possible.
A couple of years ago at a local farmers' market I discovered Summerset peaches, which peak in September. Like a California sunset, these fruits are a dazzling blend brilliant reds, warm oranges, and golden yellows. In addition to being visually beautiful, they emit a delicate floral aroma and are amazingly juicy and succulent, as if warmed by the sun.
Of course, you don't need Summerset peaches to enjoy this recipe; there are plenty of late summer varieties from which to choose. And though peaches are delightful eaten out of hand or in desserts, they are surprisingly delicious in savory dishes. They pair brilliantly with arugula and prosciutto and are wonderful grilled and filled with savory cheeses and herbs.
My favorite way to enjoy them though is by sauteeing them on the stove with some tangy honey and woodsy rosemary. The sweet, acidic, and earthy flavors blend harmoniously to make a remarkable companion to pork for an easy yet stylish weeknight dinner.
Skillet Boneless Pork Chops with Rosemary Peaches
Serves 4
Pork:
4 boneless pork chops (about 4-6 ounces each)
salt and freshly ground black pepper
2 teaspoons olive oil
2 teaspoons butter
Rosemary Peaches:
4 teaspoons butter
4 ripe yet still firm yellow peaches, sliced with the skins on
2 teaspoons apple cider vinegar
1/4 cup light brown sugar
1 teaspoon finely chopped fresh rosemary
salt and freshly ground black pepper, to taste
Trim any fat off of the pork chops. Season well with salt and black pepper and let rest for 5 minutes.
In a large skillet over medium-high heat, warm 2 teaspoons olive oil and butter. Add pork chops. Cook 4-5 minutes, then flip once, and cook another 4-5 minutes, or until the outside is browned and crisp and the inside is cooked through yet still tender.
Meanwhile, to make the peaches, heat 4 teaspoons butter in a large skillet over medium-high heat. Add the peach slices and cook 2-3 minutes, until lightly browned. Add the vinegar, brown sugar, rosemary, and salt and pepper, and stir. Lower heat to medium-low, and cook for 3-5 minutes, or until the sauce begins to bubble up and thicken. Spoon peaches and sauce atop hot pork chops, garnish with additional chopped rosemary, if desired, and serve immediately.
Susan Russo is a free lance food writer in San Diego, California. She publishes stories, recipes, and photos on her cooking blog, <Food Blogga and is a regular contributor to NPR's <Kitchen Window. She is also the author of Recipes Every Man Should Know
and The Encyclopedia of Sandwiches
.