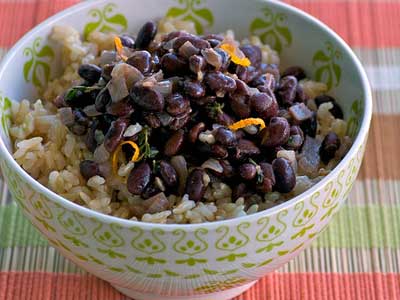 The other day I received a flyer advertising a romantic Caribbean get-away. It showed a scantily clad, deliriously happy couple lounging on the beach, cocktails in hand. I ripped it in half and tossed in the recycle bin. When you're married to someone whose Twitter handle is @Dermdoc, lying on the beach isn't in your future. Consider this: Last summer when our local Target ran out of sunscreen, they called us.

So the only thing worth going to the Caribbean for would be the food. Caribbean food is a fusion of many cuisines including African, Ameri-Indian, French, and Spanish making, making it deliciously unique. Given its temperate climate, the Caribbean produces an astounding array of exotic fruits such as passionfruit, guava, cherimoyas, and coconuts which feature prominently in both sweet and savory dishes. And their beloved jerk seasoned meats and fresh fish, are often accompanied by two of my favorite foods: plantains and black beans.

Caribbean black beans and rice. If you've never had it, I'm sorry; you've been missing out. I had my first taste about 12 years ago in an eclectic Caribbean restaurant in Asheville, North Carolina. I was smitten and still am.
What makes Caribbean black beans so good? They're flavored with an enticing combination of ingredients including refreshing ginger, sweet pineapple and orange juice, aromatic allspice, and savory thyme. Spooning Caribbean black beans atop a bowl of white or brown rice makes a happy, humble vegetarian dish that you'll find yourself returning to again and again. And if you'd like to add some protein, may I suggest some pan-seared chili-lime shrimp?

Caribbean Black Beans and Rice
Serves 4

1 cup white or brown rice of your choice
3 cups water
2 teaspoons extra virgin olive oil
2 small garlic cloves, minced
1 medium white onion, finely chopped (about 1 cup)
1 (14-ounce) can black beans, drained
1/4 cup pineapple juice
1/3 cup orange juice
1 teaspoon orange zest
1 teaspoon freshly minced ginger
1/4 to 1/2 teaspoon cayenne pepper, depending on how hot you like it
1/8 teaspoon allspice or nutmeg
2 teaspoons fresh thyme

1. In a medium heavy saucepan over high heat, bring rice and water to a boil for 2 minutes. Reduce heat to low, partially cover, and cook until water is absorbed and rice is tender, about 20 minutes.

2. In a medium pot over medium heat, saute garlic and onions in olive oil until fragrant and lightly browned, about 3 to 5 minutes. Add remaining ingredients, and stir until combined. Cook over low heat until heated through, about 8 to10 minutes. If beans become too thick, simply add a little bit more juice or water. Serve atop white or brown rice.

Optional garnishes: Chopped ripe mango or diced fresh pineapple.
Susan Russo is a free lance food writer in San Diego, California. She publishes stories, recipes, and photos on her cooking blog, <Food Blogga and is a regular contributor to NPR's <Kitchen Window. She is also the author of Recipes Every Man Should Know
and The Encyclopedia of Sandwiches
.