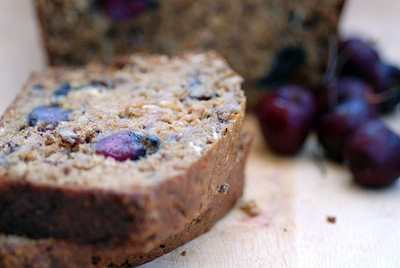 I always crave banana bread -- moist, tender, nut studded slabs with plenty of butter on top. I don't always crave the calories that come with it. That's why I have been experimenting with a creating a healthier, reduced fat banana bread that will keep both tummy and my hips happy. I have succeeded.
This banana bread is low in fat and calories yet high in fiber, protein, and heart-healthy omega-3 fatty acids. Instead of fats such as butter or oil, I used healthier egg whites, low-fat buttermilk, non-fat yogurt, and orange juice. Instead of just plain white flour, I used protein and fiber-rich oats and whole wheat flour and omega-3-rich flax seed and walnuts.
The cherries are a seasonal surprise that add sweet juiciness to eat bite. Of course, you could substitute other fresh fruit such as apples or mangoes or dried fruit such as raisins or apricots. Oh, and don't worry. It tastes great.
Healthy Cherry, Banana, and Oatmeal Breakfast Bread
Makes 2 (8 1/2 X 4 1/2 -inch) loaves
1/2 cup toasted rolled oats (or old-fashioned oatmeal)
1 1/2 cups whole wheat flour
1 1/2 cups all-purpose flour
1 tablespoon baking soda
1 teaspoon salt
2 teaspoons ground cinnamon
1/2 teaspoon ground nutmeg
1 cup light brown sugar
2 large eggs plus 4 egg whites
1 cup low-fat buttermilk (or low-fat vanilla soymilk)
2 tablespoons plain yogurt
2 tablespoons orange juice
2 teaspoons pure vanilla extract
zest of one orange
2 small very ripe bananas, mashed (about 1 cup)
1 cup pitted, halved fresh cherries
1/2 cup walnuts, coarsely chopped
1/4 cup flax seed or ground flax meal

1. Position a rack in the center of the oven and preheat to 350 degrees F. Coat 2 (8 1/2 X 4 1/2 -inch) loaf pans with cooking spray.
2. To toast the oatmeal, place in a dry skillet over medium-low heat, stirring occasionally, until golden, about 3-4 minutes. Set aside.
3. In a medium size bowl, whisk the toasted oats, flours, baking soda, salt, cinnamon, and nutmeg.
4. In a large bowl, beat brown sugar and eggs. Add buttermilk, yogurt, orange juice, and vanilla; beat until batter is smooth. Lower the speed; add the orange zest and bananas, and beat briefly (it's ok if the batter has a few lumps).
5. Add the flour mixture to the egg mixture, and mix until just incorporated. Using a rubber spatula, fold in the cherries, walnuts, and flax seed. The batter will be thick. Pour the batter into the pans. Bake for 35-45 minutes, or until the top is a deep golden brown and a cake tester inserted into the middle comes out clean.
6. Transfer the breads to a rack; let cool for 10 minutes, then unmold and place on a rack to cool to room temperature.