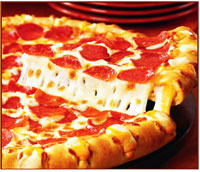 One of the prostitutes who lived across the hall from my wife and me was the person who introduced us to the Honey Lounge, a working class bar across the street from the Prudential Center in Boston. She and her pimp had apparently had a small disagreement about money and she hid out in our apartment while he pounded on her door and threatened to kill her. The following night, their dispute resolved, they brought us a pizza as compensation for our kindness. The pimp said it was from the Honey Lounge, the best pizza in the city.
We thought so, too. In the days before the elevation of pizza into some sort of fussy gourmet high art the Honey Lounge understood what its patrons wanted: more crust, more cheese, more tomato sauce, more meat and not an artichoke heart or a leaf of arugula in sight, served in a dark dingy room where we often got the added thrill of being the only yuppies in the place. And there was a bonus. The Honey Lounge also had the best donuts in town, incongruously light and fluffy, and from the first bite a permanent part of our weekend routine.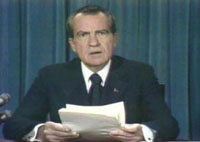 It was pizza and not donuts that brought us to the Honey Lounge on a hot August night in 1974, contentedly munching away, swigging our watery cokes and occasionally glancing at the fuzzy picture on the ancient TV set above the bar. It was there that we watched Richard Nixon appear on the screen and announce his decision to resign from the presidency. For a moment we thought that no one but us was paying attention and then one of the potbellied drinkers at the bar muttered "Good riddance" and the bartender said "Drinks are on the house" and, in the Honey Lounge at least, Richard Nixon was gone, instantly a speck in the rearview mirror.
We moved from Boston soon after and the Honey Lounge itself didn't last much longer. By the late seventies it was a punk club and several incarnations later it is now a sports bar called the Pour House with 15 flat screens and sports memorabilia on the walls. And yet, at least according to online reviews, it still manages to retain some of the old working class ethos of the original. And every once in a while we have one of those moments where we wish we could go back to that place, those days. Presidents, the worst and even the best of them, come and go, but pizza and donuts go on forever.