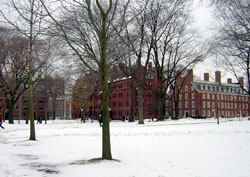 When I strolled recently in Harvard Yard with my daughter Paris, she reminded me that these ivy- covered brick buildings were not only where she had bunked as a freshman, but also where the American Revolutionary War troops had slept before there were polls or primaries, or even elections, or even American Presidents. I feel the political history when I'm in Cambridge.
The Charles Hotel, where I stay when I can afford it or even when I can't, is located off JFK Avenue, right by Harvard's JFK School of Government. This institution has amazing internationally and nationally renowned political leaders and thinkers drifting in and out hourly. There is often a TV truck with protruding satellites illegally parked nearby. Police motorcades noisily and regularly whiz by. These lofty brick buildings overlook a square that features an outdoors local Boston favorite 'Legal Seafood' stand/bar during the warmer seasons, and an ice rink during the winter frost. Sitting in that area, eating a great lobster roll and sipping chowder and tea or diet coke or even an occasional martini, I've spotted the likes of political columnist Maureen Dowd and Harvard Law School professor Lawrence Tribe.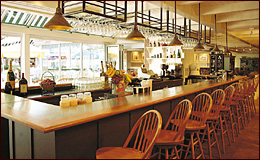 But it being winter now, if I were there next Super Tuesday, I'd probably take myself inside the cozy fireplace-warmed and patchwork quilt-walled Charles Hotel to election results-watch and people-watch at 'Henrietta's Table'. Henrietta's Table is the hotel breakfast/lunch/dinner vintage nouvelle New England eatery. For breakfast, it has Vermont maple syrup that tastes like it was collected from the tree that very day. It boasts homemade jellies and huge biscuits, house-smoked and locally caught salmon. And then there's the homemade granola parfait.
As you eat, you see political heavyweights, network commentators, and international types who will be later that day visiting the Kennedy School of Government or perhaps meeting with President Faust, the long overdue, first woman head of Harvard University. Lunch and dinner at this off-campus political commissary usually features a great Maine crab corn chowder, fresh fish, local organic seasonal root vegetables, and very tempting and sometimes irresistible comfort food oyster stews. This is a place with booths, where you hang out, where people can pick from various international newspapers to read while they dine.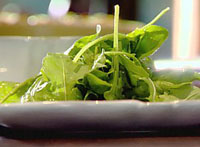 If I could beam myself to Cambridge to experience Super Tuesday with my daughter, she and I would probably be sitting across from each other at Henrietta's Table, sharing either an egg-white asparagus omelet or an arugula salad, both with local organic ingredients. I'd probably be craning my neck watching either David Gergen or another Kennedy School of Government professor talking animatedly about who was winning and why. Then, I might walk my daughter to her class, possibly in Harvard Yard, and I'd think about how over 230 years ago, people fought for the right to have a voice in our government there, as we still are now. Maybe some of them even ate fresh-caught salmon or lobster and local, organic corn soup, as I certainly would be doing if I were in Cambridge next Tuesday.
And that night, I might grab a huge piece of great Boston pizza from Bertucci's on Brattle Street and look at the election results with other Cambridge passers-by in front of nearby Cardullo's, (a wonderful upscale sandwich shop which has been there since I was an undergraduate!) that keeps a TV on in their display window at night for people gathered outside to watch—sometimes it's the Red Sox or the Celtics, but next Tuesday, it'll be the big political primary play-offs.
Henrietta's Table
One Bennett St.
Cambridge, MA 02138
Phone: (617) 661-5005