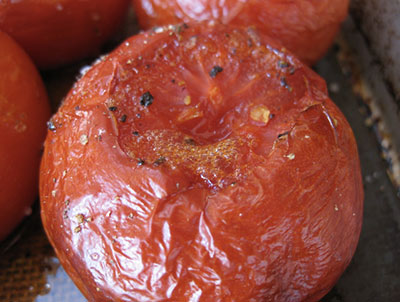 Always on the hunt for an easy to make ingredient, I discovered roasted tomatoes a few years ago. With several left over after a dinner party, I decided a little experimentation was in order. I discovered that roasted tomatoes served up countless uses and, because they freeze well, they can be pulled out at the last minute and added to soups, stews, and sauces.

Incredibly versatile, roasted tomatoes work as a side dish as well as the basis for sauces. Cold, they can be tossed with cucumbers and onions for a salad. Peeled and chopped, they add body and flavor to stews, soups, and pastas.

Ripe and over ripe tomatoes work best. If you shop at farmers' markets, keep an eye out for discounted tomatoes. This week at the Santa Monica Farmers' Market, tomatoes were selling for $2.50 - $3.50/pound, but the over ripe ones were priced at 60 cents/pound.

When they're roasting, tomatoes give off a clear liquid. The flavor is pure essence of tomato. The liquid can be used separately to flavor a simple pasta or as a final basting on a grilled meat. The wonderful chef, cookbook writer, and founder of Fra'Mani, Paul Bertolli was famous for hanging tomatoes in cheese cloth and capturing the clear tomato water that he called "the blood of the fruit."

Roasted Tomatoes

Yield: 4 servings
Time: 90 minutes

Ingredients

3 pounds ripe tomatoes (washed, stems removed)
Olive oil
Sea salt and pepper

Method

Preheat the oven to 350 degrees. Place the whole tomatoes on a Silpat sheet or a piece of aluminum foil on a baking tray. Drizzle with olive oil and season with sea salt and pepper. Roast for 90 minutes. When the tomatoes are removed from the pan, be certain to spatula off all the seasoned olive oil and tomato water. That liquid is full of flavor. Spoon it over the tomatoes.

The tomatoes can be served as a side dish with other vegetables, pasta, and grilled meats.
David Latt is an Emmy-award winning television producer who turns to cooking to alleviate stress. He shares his experiences with food and his favorite recipes on his blog Men Who Like To Cook.