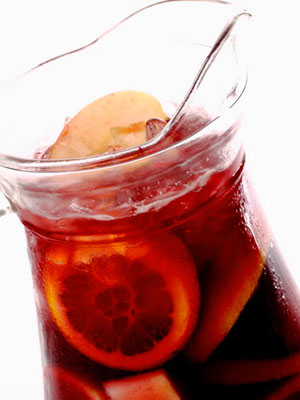 I generally don't care for Sangria, except for when I'm in Spain - it just seems to taste better there. Sangria makes a perfect summer drink when entertaining, because you can make large batches ahead of time.
This recipe is based on one I received during my stay at Le Meridien Barcelona from the General Manager, Gonzalo Duarte Silva. They served his sangria during a wonderful cooking event which I attended at the hotel called "Paella Atelier" where their chef Eugeni Cortés demonstrated how to prepare a traditional paella.
The recipe is very similarm but I've added a few "enhancements". Be sure to choose an inexpensive Spanish Rioja, I like to use Campo Viejo Rioja Crianza, but a fruity Merlot will work as well.
Be sure to allow time for the flavors to blend, it really does get better as it sits.
4 large juice oranges, washed; two orange sliced; remaining oranges juiced
2 large lemons, washed and sliced
1/2 cup granulated Superfine sugar
1/2 cup Cointreau or Triple Sec
1/2 cup brandy
1 apple, sliced thin
1 small handful of red grapes
2 bottles inexpensive Spanish red wine, chilled
1 liter bottle of seltzer or Orange soda (like Orangina)
Add sliced oranges, lemons, and sugar to large container; mash gently with wooden spoon until fruit releases some juice, but is not totally crushed, and sugar dissolves, about 1 minute. Stir in orange juice, Triple Sec, brandy, apple slices, grapes, and wine; cover and refrigerate for at least 2, and up to 8 hours. When ready to serve stir in seltzer (or orange soda) and serve with ice and fruit.
James Moore has been a cooking enthusiast since childhood and started blogging as a way to share favorite recipes with friends and family. His site, Cook Like James has grown to include restaurants, cookbooks, wines, and favorite places.