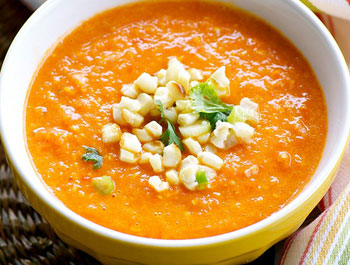 I woke up the other morning craving roasted red pepper soup. Not for breakfast -- that would be weird -- but for dinner.

Since I had recently purchased a dozen bright and shiny red bell peppers, I thought it would be a good idea to roast them first thing in the morning. So by 6:15 am, the peppers were sliced, drizzled with oil, and placed under the broiler. Like wood-fired pizzas or chargrilled burgers, the smell of roasting peppers is utterly enticing. Except when it's not.

You see, that utterly enticing aroma becomes not-so-enticing by three o'clock in the afternoon. You can light vanilla scented candles (which I did) and spray air freshener (which I did). It won't matter. The smell will linger like an unwanted house guest.

So here's my advice: Make roasted peppers only after 12 noon. And then make this soup because it's too delicious to pass up. You could make it with jarred roasted peppers and canned corn, but don't. Roast the peppers. Cut the kernels off the sweet corn. Chop the fresh cilantro. Sure, it will take longer, but you'll be rewarded.
This soup is wonderfully spicy, smoky, and sweet. Plus, it's topped with a crunchy, tangy corn salsa that's good enough to eat by the spoonful. And if you're looking for something to sop up the last of the soup in your bowl, then make a loaf of this Jalapeno and Cheddar Cornbread. It works deliciously.

Want to learn how to roast peppers on a grill? Then check out this blog post with step-by-step photos.

Southwest Roasted Red Pepper and Corn Soup
Makes 6-8 servings

Soup:
6 large red bell peppers
3 ears of sweet corn (reserve one for the salsa)
4 tablespoons olive oil, divided
1 yellow onion, chopped
3 celery stalks, chopped
5 cups low-sodium vegetable broth
1/2 teaspoon salt
3/4 teaspoons chipotle powder
1/4 cup chopped fresh cilantro

Salsa:
1 reserved ear of roasted corn
1 scallion, thinly sliced
A pinch of salt
1 teaspoon lime juice
1 tablespoon chopped fresh cilantro

1. Pre-heat oven broiler. Line one large or two small rimmed baking sheets with aluminum foil. Slice peppers in half. Clean out the seeds. Place cut-side down on prepared baking sheet. Remove corn from husks, discarding all silk. Place on prepared baking sheet. Drizzle peppers and corn with 2 tablespoons olive oil. Place directly under broiler for 25-30 minutes, rotating the corn halfway through. Broil until the peppers are covered with black blisters and the corn has lightly browned kernels. Remove from oven and let corn cool. Wrap peppers tightly in aluminum foil, or place inside of a paper bag and close tightly. Place inside of a bowl to catch any juices that might spill out for about 10-15 minutes. The steam will help the skins peel off more easily. Remove one pepper at a time. Using a paper towel, rub the skins off and discard. If you have trouble removing the skins, then steam the peppers a bit longer. Chop peppers. Once corn is cooled, cut off kernels, reserving one ear for the salsa.

2. In a large, deep pot over medium-high heat, warm remaining 2 tablespoons olive oil. Saute onions and celery for 5-7 minutes until translucent and lightly browned. Add roasted peppers, corn kernels, vegetable broth, salt, and chipotle powder, and cook 5-7 minutes. Remove from heat, and stir in cilantro. Allow to cool completely before pureeing.

3. Puree the soup in batches in a blender until smooth, or if you prefer, a little chunky. Taste it. Add more chipotle powder if you'd like some extra heat. Return soup to pot and heat on stovetop for 7-10 minutes before serving.

4. For the salsa, combine all ingredients in a small bowl. Garnish each bowl of soup with 1-2 tablespoons of salsa.
Susan Russo is a free lance food writer in San Diego, California. She publishes stories, recipes, and photos on her cooking blog, <Food Blogga and is a regular contributor to NPR's <Kitchen Window. She is also the author of Recipes Every Man Should Know
and The Encyclopedia of Sandwiches
.