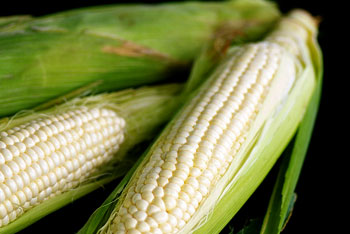 Where would I be without California farmers? If it weren't for them, I would never have discovered the sticky, caramel bliss of Medjool dates, the tropical pina colada flavors of cherimoya, or the simple joy of munching on raw summer sweet corn. Yes, raw corn.

At first, I was skeptical. Having grown up in New England, I was accustomed to bright yellow, fat kerneled ears of corn steamed to perfection and doused with melted butter and salt. But the LA farmer insisted I taste the raw corn he was offering: raw, white, small kerneled corn. How could such puny corn possibly be good without butter and salt?

Still, I held out my palm while he filled it with a scoop of raw corn kernels. With one swift swoop of the arm, I popped the entire handful in my mouth. It was crunchy, as in snap! crackle! pop! crunchy and surprisingly juicy. As for the flavor, well, it was natural. Just unadorned, mildly sweet, old-fashioned corn flavor. I was hooked.

That was about four years ago, and I still anticipate sweet corn season every year so I can nosh on raw corn. If you feel weird eating a raw cob of corn, then cut off the kernels and add them to salads and salsas, or eat them by the spoonful. Have them plain, or sprinkle them with lemon and cayenne pepper or lime and chipotle powder.

Then give thanks for California farmers, well, actually for all farmers. Where would we be without them?


Cornmeal Crusted Tilapia with Mango, Corn, and Cucumber Salsa
Makes 4 servings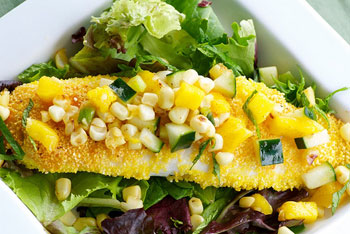 This simple salsa celebrates the clean, fresh flavors of summertime. It's a natural pairing with seafood but is also delicious with chicken, beef, and pork.

Salsa:
1 cup diced ripe mango
1 ear of sweet corn, kernels cut off from cob
2 scallions, thinly sliced
1/2 cup diced cucumbers with the skins on
2 teaspoons fresh ginger
2 teaspoons apple cider vinegar
2 teaspoons honey
The juice of 1 large lime (about 2 tablespoons)
The zest of 1/3 lime (about 1/8 teaspoon)
1/4 teaspoon cayenne pepper
1/8 teaspoon salt
2 teaspoons finely chopped fresh mint

Fish:
4 (4 ounce) filets of tilapia, or other thin, white fish such as Dover Sole
2 egg whites
1/2 cup yellow cornmeal (also called grits and polenta)
A couple of pinches of salt
A couple of pinches of freshly ground black pepper
6 cups mesclun

1. Combine all salsa ingredients in a small bowl and set aside.

2. Preheat oven to 400 degrees F. Coat a large, rimmed baking sheet or baking dish with cooking spray. Place egg whites in a shallow bowl and lightly beat with a fork. In another shallow bowl, place cornmeal seasoned with salt and pepper. Pat fish dry with paper towel. Dip each piece of fish in the egg whites then dredge in the cornmeal until completely coated. Place on prepared baking dish and cook for 20 minutes, turning once mid-way through. The fish will be cooked when the cornmeal becomes golden and crunchy and the fish is opaque when pierced with a fork.

3. Place 1 1/2 cups mesclun on each plate. Place a fish filet in the middle and top with a 1/4 of the salsa. Repeat with remaining dishes.

Alternative stove-top method: In a large skillet over medium heat, warm 1 1/2 tablespoons canola oil. Place fish in pan and cook for 4-5 minutes without touching. Flip once, and cook another 3-4 minutes, or until the cornmeal is golden and crunchy and the fish is opaque when pierced with a fork.
Susan Russo is a free lance food writer in San Diego, California. She publishes stories, recipes, and photos on her cooking blog, <Food Blogga and is a regular contributor to NPR's <Kitchen Window. She is also the author of two upcoming books that will be published in the fall of 2010.