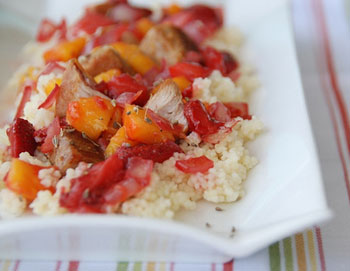 Strawberry season is in full swing across most of the country, so chances are you're buying lots of them. You are, aren't you? Then that also means you likely have a few soft or slightly bruised berries -- good enough to eat but not pristine enough to showcase on the top of a strawberry shortcake.
Well I'm not going to suggest you use them to make sweet jam or a smoothie (though I love both). I'm going savory with strawberries. That's right. If you've never paired strawberries with meat, then expect to be wowed.
Succulent strawberries and creamy mango are enhanced with aromatic anise seed in this simple yet flavorful salsa. The fruits' sweetness provides the perfect balance to the savory, buttery flavor of the pork tenderloin.
Pork Tenderloin with Strawberry-Mango Salsa
Serves 4
Pork:
1 1/4 pound pork tenderloin
Salt and pepper
2 teaspoons olive oil
2 teaspoons butter
Salsa:
1 tablespoon butter
1 cup sweet onion, such as Vidalia
1 teaspoon anise seed
1 cup diced mango
2 cups chopped strawberries
salt and freshly ground back pepper, to taste
2 cups cooked grain of your choice, such as cous-cous, quinoa, or white rice.
Cut the tenderloin into medallions, and season with salt and pepper. Let stand for about 10 minutes.
Meanwhile, for the salsa, melt butter in a large skillet over medium heat. Saute the sweet onion for 3-4 minutes, or until slightly softened and browned. Stir in the anise seed and diced mango, cooking for 2 minutes more. Add strawberries and cook 2-3 minutes, until slightly softened. Season with salt and pepper. Remove from heat.
In a large skillet over medium-high heat, melt 2 teaspoons olive oil and 2 teaspoons butter. Add the pork; cook for 3-4 minutes, until crispy and browned, then flip and cook until browned all over and just cooked through (the meat should be tender).
Place cooked grain on a platter, add cooked pork, and cover with warm fruit salsa. Serve immediately.
Susan Russo is a free lance food writer in San Diego, California. She publishes stories, recipes, and photos on her cooking blog, <Food Blogga and is a regular contributor to NPR's <Kitchen Window. She is also the author of Recipes Every Man Should Know
and The Encyclopedia of Sandwiches
.