"Not only did I know that August is National Picnic Month, that's exactly how I celebrate every year. By having a month long picnic on a small patch of grass, by the lake, in my favorite neighborhood park. Each August 1, I pack the SUV with 31 day supplies of chicken wings, macaroni salad, bottled water, colorful napkins - and don't return home until just before Labor Day." - Alan Zweibel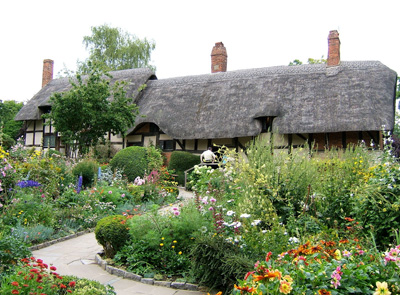 Pack up your picnic and enjoy an afternoon in the beautiful gardens at Anne Hathaway's Cottage in the heart of England, Stratford upon Avon home to the Bard himself, Shakespeare.
Here you can enjoy free entertainment and activities for all the family, and it is a perfect excuse to venture outside and enjoy the gardens at their very best. There are competitions for the best dressed teddy, fairy dressing up, story-telling and children's gardening tips from the team of expert gardeners plus races and craft activities.
Foods to enjoy are scones with fresh cream and homemade strawberry jam made from locally grown strawberries…the little ones not the puffed up GMO varieties! Lots of white and brown bread sandwiches filled with delicate fillings of cucumber and egg salad and crème cheese all locally sourced and of course lots of dainty fairy cakes and delicious home baked tartlets…yummy! - Carolan Nathan
As a child, I would go boating with my family in the Stockholm archipelago. We had a small boat which barely slept the four of us and in it we and would skip from island to island for a few weeks. My brother and I would hop ashore first and explore until we found the perfect spot for a picnic. As the sun started to set – which it does late up in these parts – we would sit on the rocks that were still warm from the days sun.
These days, I go with my wife and daughter to the beach in Wainscott where we have a modest house in the middle of a field. Listening to the sea we munch on halibut salad, cheese and crackers from Loaves and Fishes in Sagaponack. - Fredrik Carlström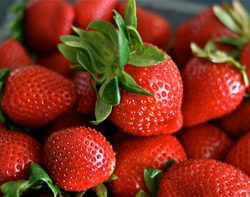 My favorite picnic food is strawberries - and there are many ways to serve them. The best is simple - just washed and dried - the whole fruit is sweet enough without anything added. I also love a spinach salad dressed with balsamic vinaigrette or even a syrupy reduction, feta and chopped strawberries. I usually wait to dress the salad until just before serving, but if i use kale instead of spinach, the acid in the dressing will make the kale much softer and more palatable. - Margaret Cho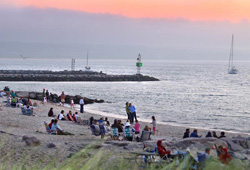 My favorite picnic on earth is a Sunset Picnic at Menemsha Town Beach on Martha's Vineyard in the summertime. I place a generous order for lobsters, clam chowder and steamers from Larsen's Fish Market (and make sure you plan in advance because they get really busy and you have to pick it up before they close) and then fill that in (because you can never have too many clams) with a huge order of fried clams from The Bite just down the road. Have your friends grab a good spot on the beach with blankets, a few bottles of wine and don't forget the corkscrew and glasses. You'll never have a better sunset dinner and everyone on the beach applauds as the sun sets on the horizon. - Jannis Swerman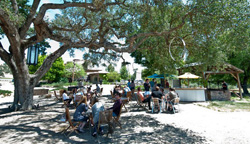 It's not really a picnic, if you're just eating outside and someone else brings you already prepared food (and wine), but my favorite place to eat outdoors is at Cass Winery in Paso Robles, CA. You sit outside under this 100+ year old giant oak tree at wooden tables, dirt under your feet and just take in the view of the vineyard. If you're lucky Ted's Taco Bar is open...which means eating with your hands off of a paper plate. Which is as rustic as I want to get. Am too old to sit on the ground anymore...plus, the key to a great picnic, at least for me, is the view, the food and the company. All three are top-notch here. - Lisa Dinsmore