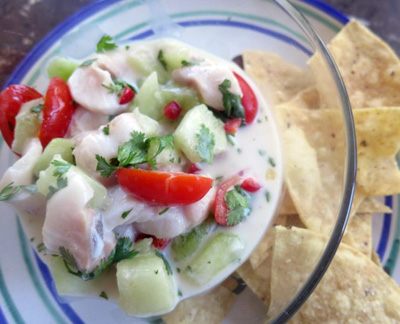 This quick and easy dinner was inspired by Aida Mollenkamp's Chile Basil Coconut Ceviche. Black Cod arrived from the fish CSA this week, I just bought a can of coconut cream and I was awash in fresh lime juice.
It was, as they say, beshert, meant to be. It never occurred to me to combine coconut milk/cream with lime juice to "cook" the fish. Black Cod is so luscious that I normally wouldn't use it in ceviche but somehow the idea of combining like with like (rich fish and rich coconut cream) seemed like a good idea.
I looked in the fridge to see what I had that would appeal in the same way Aida's mixture of mango with coconut appeals. I had a luscious Weiser Ogen melon. Score!
So it went like this.
Thinly slice partially frozen fish (if I don't use my CSA fish right away I prep it and throw it in the freezer) and place in bowl. Add a generous splash of lime juice, a sprinkle of salt and coconut cream to barely cover and stir.
Let sit for 10 minutes in fridge. Add a few slivers of red onion, a bit of cilantro, some minced red jalapeno (I had one in the garden), and some diced green Ogen melon.
As an afterthought I added some halved super sweet baby tomatoes. Scoop into mouth with chips. Very fast, very good and refreshing.
Evan Kleiman is an active speaker on culinary subjects as well as issues of food culture and sustainability and, just to keep a balance, she has a very public love affair with Pie. She's been called the Jerry Garcia of cooking with the freewheeling improvisation she brings to the kitchen. You can follow her exploits on her blog at http://www.evankleiman.com/